Building back better with Kering Group and Conscious Fashion Campaign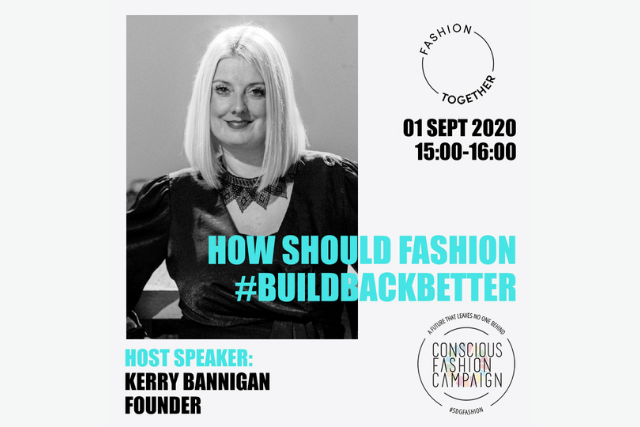 The sustainability question is a broad one and one that has been brought front and centre during the pandemic. But for all the discussion around it, it's not always clear how exactly you can implement the principles into your own business. As part of our Fashion Together programme, Conscious Fashion Campaign founder Kerry Bannigan sat down with Christine Goulay, Head of Sustainable Innovation at Kering Group, to find out how the business is paving the way to a sustainable future for luxury fashion and some of the practices businesses can emulate on their own sustainability journeys.
Kering's work in sustainablity
There are around 50 people working full time on sustainability, including the sustainability teams at the brands, and also at the Group level, teams working on the group's Environmental Profit and Loss, on biodiversity strategy, working with suppliers and circularity and so on.
To understand where Sustainable Innovation fits within this, Christine used the analogy of a funnel with sustainable innovation at the very start, in the ideas phase. The sustainable innovation role is to bring the Kering Group's impact into focus and make sure that the innovations being worked on and tested are actually achieving the goals set and how these innovations can then be incorporated into the wider business and operations.
Kering's 2025 Sustainability Strategy
The Kering Sustainability Strategy, which was launching in 2017, is split into three key pillars: Care; Collaborate; and Create. This strategy is about taking a holistic approach to sustainability and is designed to help the Group encapsulate the core focuses for their sustainability efforts. Care is designed to guide environmental policies, Collaborate is based on the social aspects and Create is about the ideas and innovations Kering is working on to disrupt their processes and make a bigger positive impact. As part of the strategy, Kering are publishing regular progress reports, the latest of which you can read
here
.
Where do the Sustainable Development Goals come into play and how can we use these to guide our sustainable journey?
For Christine, the SDGs are all about providing a pattern for success. She told Kerry, "the importance of the SDGs is that they are a universal framework which allow us to all speak the same language." In that way, Christine continues, the SDGs are definitely part of the Kering framework.
As both Kerry and Christine point out, when looking at the SDGs, it's about choosing one, or a few, that you think you can really make a difference in, whilst viewing all 17 goals together and, again, taking a holistic approach.
Of course, as our panellists acknowledge the 17 goals and associated 169 targets can be overwhelming. Christine's advice is to remember that "perfection is the enemy of good". Businesses simply cannot fight every sustainability battle and expect to achieve perfect results. For Christine, it's important that passion guides your decision when it comes to choosing the SDG to pursue first and then to work towards the rest gradually.
Collaboration is key
As Christine points out, we're all at the beginning of the sustainability journey and there is a long way to go before we have the answers or a solution. In the meantime, it is collaboration, learning and transparency that will drive the push for sustainability forward – it's not something one group or individual can do alone.
Kerry's top tip for brands looking to get on the sustainability ladder is to look to who inspires you; who are the brands that are doing great work and what can you learn from them? It can be daunting to reach out to people, but actually, people want to share the work they're doing.
Sustainability in the post-pandemic era
The Covid-19 pandemic has raised many questions for a number of businesses, and it's encouraging many leaders and teams alike to re-examine operations and ask, "are we doing the best we can?". For example, many businesses are now calling into question the importance of the physical and the digital and reimagining a world where the two coexist more closely. For others, the question revolves around local business, bringing operations closer to home and on-demand manufacture.
For Kering, the focus on sustainablity is more important than ever, and the pandemic has highlighted the inextricable link between business and nature. Now, the Group is focusing on protecting the spaces where they source their materials and ensuring the continuation of vital eco systems.
What can you do to make a difference within your business?
Kerry and Christine identify a few steps to help you to direct your focus:
Understand your impacts. Always keep these in mind, notice if something becomes unsustainable and change direction. Start to collect the data to really understand what impacts you're having and allow these to guide you.
Focus on solutions that don't involve sourcing virgin materials. Look at options around recycled and circular materials.
Whilst it is unique, it's important to start to communicate messages of sustainable from the top of the organisational hierarchy down. If leadership and key stakeholders are on board this will naturally permeate through the business.
Suppliers are also critical. Ensure you have good partnerships and help them to understand the value of a sustainable way of working as it applies to them.
Want to hear more about Christine's story and the Kering sustainability journey? Catch up with the session on demand.