26 May 2020
WEBINAR RECAP: Pantone Presents… Botanica: cooperation and hope for SS21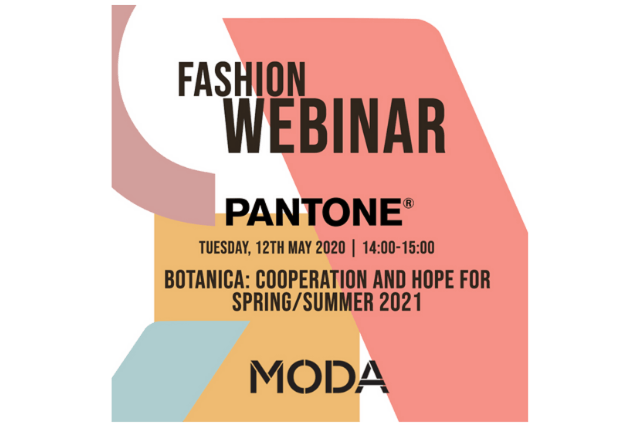 As the COVID pandemic continues, the way we view trends is changing. With the continuation of this global crisis, how will SS21's trends be changed or accelerated? Laurie Pressman, VP of the Pantone Color Institute takes us through the key learnings for AW20/21 and the thinking behind Pantone's SS21 Colour Stories in Botanica.
Colour is a language. One that we use on a daily basis to communicate who we are and how we feel, as well as the message we want to send to the world. The Botanica palette communicates the inspiration that nature provides to us all. With the environment top of mind for many, it makes perfect sense that many of the colour trends we're seeing today come directly from our relationship with nature.
There is no question that nature is a true innovator. The colours and perspectives that come from nature influence the way we relate to the world around us. In this time when sustainability is front and centre, nature offers a perfect model for efficient circularity; no superfluity for the sake of embellishment. The infinite variation, irregularity and flexibility is something we can emulate if we have the courage to let the natural colour and materials themselves influence the form and appearance of our creations.
There are many reasons that our affinity for nature is resonating with us so deeply at this time. These include feelings of being "cooped up" during the lockdown and our evident reliance on digital technology which is devoid of natural warmth and physicality.
As we live through the lockdown experience, we are noticing the impact our lives have on the lives of other beings and are realising that we cannot continue to destroy our environment; we must take care of everything the earth has to offer including plant life which makes up 80% of biomass on the planet.
Immersing ourselves in nature's greens allows us to recharge and fuel our mind and body, enriches our soul, contributing to overall wellbeing. This helps us to connect back to who we are and what we truly value. Reflecting on the sustenance and nourishing balance we are craving, as well as the need to rejuvenate it makes sense that the greens, the colour family that is symbolic of the beauty and inherent unity of the natural world is ascending in importance.
Before we continue into SS21 and Botanica, Laurie pointed out some of the key colours on the London Fashion Week AW20/21 catwalks.
Heavily featured on runways for AW20/21 were colours expressive of a classic British sensibility; those that harken back to ideas of longevity, durability and endurance. These colours also deliver uplift and convey a sense of fun and purpose. This intrinsic versatility instils creativity and confidence.
Mandarin Red (PANTONE 17-1562): An amplified and provocative, orange-infused red tone that is a dynamic force.
Samba (PANTONE 19-1662): A voluptuous and sultry red that introduces an upbeat energy to the palette.
True Blue (PANTONE 19-4057): A definitive and reliable blue hue, True Blue is a constant and ever-faithful blue shade.
Exuberance (PANTONE 17-1349): A good natured and expansive orange shade, Exuberance conveys a message of spontaneity and happiness.
Military Olive (PANTONE 19-0622): A strong and stalwart green tone imbued with a rich narrative
Celery (PANTONE 14-0647): Botanical in feeling, Celery is a vital yellow-green that reflects the natural freshness of nature.
Ultramarine Green (PANTONE 18-5338): A deep, cooling blue-green that exudes self-assurance and poise.
Strong Blue (PANTONE 18-4051): The red undertone we see in Strong Blue injects vibrancy into this confident blue shade.
Burnt Henna (PANTONE 19-1540): A robust red, Burnt Henna combines heartiness with sophisticated earthiness.
Tawny Birch (PANTONE 17-1225): Tawny Birch is a rugged and woodsy tan shade evocative of rustic nature.
In terms of more classic shades, the following remained essential on the runway:
Jet Stream (PANTONE 11-0605): Jet Stream is an off-white suggestive of our affinity for raw and recycled. There's a softness and naturalness to this shade.
Sheepskin (PANTONE 14-1122): A rich camel tone emblematic of naturally coloured fleece.
Dress Blues (PANTONE 19-4024): This shade conveys a message of integrity and credibility.
Sleet (PANTONE 16-3916): Highlighting our desire for longevity, Sleet is a timeless grey that is dependable, solid and everlasting.
BOTANICA
After all of the drama in recent seasons, we look at SS21 and we see a quieter, more natural colour story hinting at the influence of raw dye stuffs and recycling. Whilst neons no longer occupy a full commanding role, there are some bursts of bright colour just as the natural world bursts in blooms in brilliant and stunning hues.
In line with this new feeling comes an equally important respect for texture, which of course, influences colours' appearance. Here, too, reflective of nature and more specifically, plant characteristics, texture is characterised by dry crepe-like aesthetics as well as some spongey, sensuous looks.
The colour families this season:
Pink: Ranging from pale petal pinks and softer, water-rose shades to an exotic fuschia, pinks divide into two directions, either towards the blue feeling or the red feeling that still includes warming coral like pink shades
Orange: Bright bold oranges are infused with energy whilst those with a golden-brown undertone convey our continued desire for more natural, organic colour.
Yellow: Yellows continue to migrate into other colour families, dispersing in two key directions for SS21; the first towards the greener side and the second toward more dusted and dry golden cereal hues.
Red: Like pink, red continues its popularity for SS21. Reds reflect the wide array of colour we see in nature, including orange, pink and purple.
Brown: Reminiscent of fungi, browns are lighter and softer than we've seen in previous seasons.
Blue: Blues have a fresh, sparkly essence to them and, as in the natural world, come in a myriad of hues from the heavenly light to the deepest blue of the Mediterranean sky, and from the palest tones of forget-me-nots and flax to the sunniest of cornflower.
Green: Although part of our grand vision for several seasons, greens are only now coming into their stride and we see them arching over a huge range of hues that reflect the vast ecosystem of nature. We have three different looks for the greens; our first is very natural, reflecting the power and richness of nature. Then there are our cacti inspired shades – these are dry and dehydrated in appearance, which have a grey or a brown influence. And then, there are those "unreal" greens. They appear to be infused with chlorophyll, these bio-synthetic greens have an almost unreal feeling. Reflecting what's happening digitally, these yellow greens highlight the importance of finding the right kind of balance between synthetic and technical approaches with a more natural approach.
Lilac/ Violet: Though not as important as in previous seasons, lilacs and purple do continue to play a role, showing up in calmly stated pastels and brighter floral hues.
White: White, a constant summer basic, has now grown into a major colour story, reflecting our desire for a purer life, with fewer complications, bringing simplicity, transparency and lightness to the fore.
Black: In the same way that there is no "true black" in the plant world, the blacks in our palette are not true blacks. Our blacks this season are less harsh, and they appear very greyed down.
Grey: The greys still have a massive influence working as a sounding board and enhancing the value of other colours with which they're grouped.
THIS SEASON'S PALETTES
SS21's palettes look towards a world that teaches us to be flexible, how to adapt, how to be resilient and how to live with less toxicity and more cooperation and hope. Botanica is a beautiful world, full of beautiful inspiration.
FUNGI
Blending timelessness with modernity, this is the natural colour story of mushroom shades, parchment white and a buff beige, to a warm greige and a soft taupe. It is universal in application, working equally well with natural materials and high-tech fabrics. These are the four basic shades that you need to have to establish the foundation of this colour story.
Soft Form: Our first harmony is "Soft Form". Our four key colours are joined by a clay neutral and a new violet-greige, creating a graduated colour-tinted range, from pale- to mid-tone that reveals a naturally shifting ombre look.
Cool Touch: Cool Touch is our second harmony, which sees our four key colours partnered with a natural sky blue and a powder blue, with a touch of turquoise. This air of cool blues brings clarity and freshness to the palette, creating a shrewd interpretation of the modern classic.
LICHEN
Our second grouping, Lichen is a group of four colours expressing naturalness and refinement. Appearing almost monochromatic this is a combination of an attenuated mud, withered leather, yellowed green and luminous ochre. It's well-suited for organic materials and is the perfect palette for a minimalist look.
Symbiosis: In Symbiosis we introduce a pair of woodsy brown shades recalling the bark of trees to our four core shades, creating a timeless and intergenerational colour story suitable for a new concept of urban mobility.
Dry Zone: In Dry Zone, brick colours and rusty oranges add light to ancient tree trunks and the greys of prehistoric rocks.
FRAGRANCE
Fragrance is a palette of floral pastels. Strong and energetic, their dynamism creates a powerful presence.
Intoxicating: In Intoxicating we add two more strong pastel shades by way of an apple green and amber orange-yellow to our four core pastel colours, creating a story of richly perfumed colours dense with an invigorating strength.
Ephemeral: This harmony moves into a more delicate and tender realm with the addition to the palette of an elusive green essence and a blanc de blanc, as well as the replacement of a sunny celandine with a more muted yellow-green margarita. All in all, the colour feel is quiet, immaterial and vaporous.
PLANTOID
Uncompromising ambassadors for the power of nature, Plantoid combines the green-greys and deep greens of the Sequoia forests with the energetic chlorophyll hues that typify spring growth and the delicate diaphanous greens of Acacia leaves.
Walden: Walden broadens the green spectrum, creating a palette that adds synthetic apple green, iron grey and muted brown to our four core shades, highlighting our relationship with the environment and developing connections between nature and technology.
Tech-Veg: In Tech-Veg, art meets science in a colour story that sees three of the shades in our core palette surrounded by a dense and saturate brown, a mustard yellow and an acidic, almost fluoro yellow.
BOUQUET
Bouquet is another floral palette featuring soft and delicate medium-bright shades. Celebrating kindness and love of the everyday, Bouquet offers an aesthetic that is a little bit retro and a little bit camp, but infuses a contemporary vibe into the old-fashioned.
Posh-Modern: Posh-Modern is a charming and soulful range of colours highlighting tenderness, kindness and empathy as the new values of modernity.
Afro-Flow: Integrated the primitive with the modern, disruptive Afro-Flow screams of freedom and spontaneity, resulting in a polarized sense of expression.
TRANS PLANTS
Trans Plants gives us a saturated range of four plant inspired colours.
Other Worlds: In Other Worlds, the plant world takes over and flowers crosspollinate creating new possibilities for a sustainable future.
Altered States: In Altered States two fluo colours add dynamic energy creating a more muscular interpretation of the natural world.
TINCTURE
Tincture is a palette of familiar and honest plant-based shades, emblematic of our primal desire to connect with nature and what is real.
Foraged: In Foraged, our plant-based colours blend and merge, reaching out in many different directions but at the same time these therapeutic tints are tied together through their life-giving properties.
Brewed: In Brewed we replace teal and fern to create a story comprised of warm hues of coffee and walnut brown, mixing with a purple carrot and black grape. Green Kalamata sits at the foundation, whilst Turmeric and Golden Orange stand out and give the palette strength.
SUCCULENT
Inspired by thick and fleshy plants, the cool colour story in Succulent is suggestive of the dry surface of the succulent leaf.
Fleshy: When we look at Fleshy we see the introduction of two pinks, one is dusted, the other is darker and more smoked. No matter the combination, this is all about texture driving the story with these matte textural effects; shine is kept to a minimum if used at all. There's no hard edges here, it's about curved lines and softer silhouettes with a futuristic bent.
Spikey: In Spikey, we replace Fleshy's pinks with a duo of brown inflected olive and caramel shades making for a more tonal palette with less hard contrast. This is a harder and cooler palette and the warmth of the rounded shapes is replaced with asymmetry and angular lines.
SPORES
Every season, we include what is called a "transition palette". This is a palette that can take us back to the season before and also act as a bridge to the season ahead. Serving as the bridge into the AW21/22 season, is Spores. Each colour in this palette is a variation of white, from a cooler green-infused white to a heavy cream. Emblematic of our desire for a fresh start, the whites are a colour family capable of making their own statement whilst at the same time serving as an ideal foundation onto which all other colours can be layered.
In support of the global design community, Pantone are offering Pantone Connect free for anyone to use between now and July 1st, 2020. No payment information is required to download the app, create an account, and get started. Users can download the app by visiting https://store.pantone.com/uk/en/pantone-connect-for-adobe-creative-cloud.html
As a gift to you, Pantone are also offering a digital copy of their Viewpoint Color 06 publication – RISE UP. Please click on the following link to download your copy. https://xritepantone.box.com/s/ztyh8km2pvibfvgxwnkerw44i7gxi9vr
For more information about Pantone, please reach out to Marketing-EMEA@pantone.com