07 Aug 2018
Moda Spring/Summer 2019 Roundup Part 1: Trends, trends, and more trends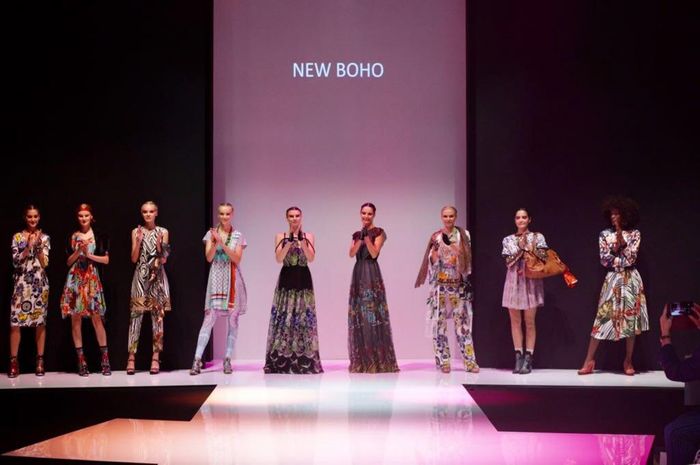 In part one of our roundup of all the action at Moda Spring/Summer 2019, we look at our fabulous catwalks, and how the show continues to influence the way fashionistas everywhere look and feel good.
Moda's unique catwalks
Moda's catwalks are where fashion happens. It's where our brilliant exhibitors show how they're dictating this season's top trends – and what to expect to see on racks and rails next season.
All the big styles were showcased this season, so let's take a look.
Does monochrome ever go out of fashion? Absolutely not. Ella Boo and Plage du Sud were amongst the brands showing us how black and white are everlasting trends, bringing in biker influences and a hint of sci-fi to finish the overall look.
Away from new season monochrome comes Moda's love for pastel. These bright and breezy shades are de rigeur right now, and we were blown away by the collections from Pomodoro, Superbia, Snow Paw, Zaxy and Mat Fashion amongst others. One trend to watch: teaming pastel peaches with floral patterns for a slice of summer.
Moda Noir brought unique prom dresses into sharp focus; eye-catching, feminine, and ultra-pretty. Also covered was mother-of-the-bride fashion – because why shouldn't mum look and feel amazing on her daughter's special day?
No fashion event would be complete without showcasing some of the hippest new boho fashions. Ranges from the likes of Gomaye, Made in Pale, Carla Ruiz/Argiddo, and Ruby Shoo, were blended together with the free-spirited, carefree attitude that defines modern bohemian collections. We're talking bold floral and statement prints, coupled with 70s-esque headscarves for a retro yet modern feel.
Moda stays on trend with Emily Stott
Emily Stott, stylist to the stars and author of buying guide "Shopped" helped bring the fashion back into focus at Moda Spring/Summer 2019.
Again, it's personalisation. Giving the shopper a comfortable, friendly experience, as Emily reveals: "If you can bring the comfort of shopping from the sofa into the store, then people will come back, have fun, and enjoy shopping."
Another key aspect of shopping in the 21st century is the cost per wear. Emily reveals that in her day job of compiling looks and outfits, people who are spending a lot on their new chic pieces want to get the most out of it.
Using the midi-dress as a base, Emily revealed an entire wardrobe's worth of looks featured around this one trend; from pairing it with chunky knitwear, to going for a Parisian feel with stripes and trainers, versatility was on the cards.
Guiding customers on how to dress, plus how to make the most out of a single garment, provides that all-important tailored experience.
Fashion is live at Moda
As you can see, Moda offers much, much more than just the usual trade show experience. It's the UK's no.1 fashion event – and it's thanks to our fabulous trendsetters that we stay at the top.
Get ready for more insider knowledge from industry experts, exciting catwalks, and unique fashion presentations at Moda Autumn/Winter 2019.