08 Aug 2018
Moda Spring/Summer 2019 Roundup Part 2: The business of fashion exposed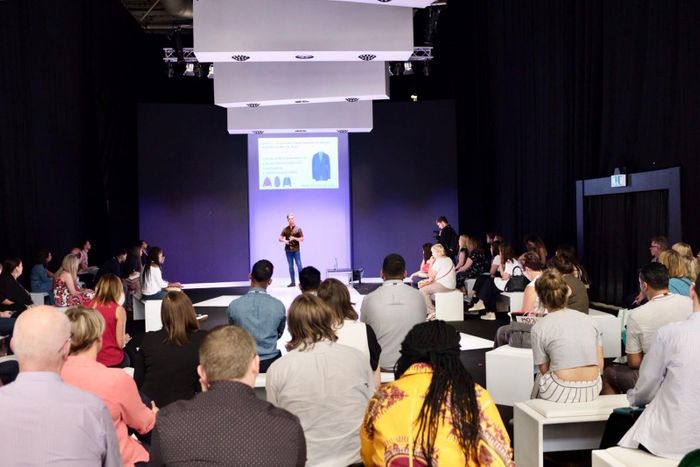 After a busy three days of fashion, seminars, and networking, Moda Spring/Summer 2019 has come to a close. It's been another fantastic show this season, as buyers and exhibitors alike revel in new collections, new sales opportunities, and new relationships.
Moda is more than just a place to buy and sell, though. It's a place to dive head first into the entire business of fashion. At this season's event, experts from across the industry gave top tips on how to succeed in fashion – and what to expect in the future.
Stepping into the new season in style
Think footwear, and you're probably thinking of a pair of stateside sneakers, Italian craftsmanship, or three-striped sports shoes from Europe. But what about Britain?
The 80s heyday of 33 million UK-crafted pairs may be a thing of the past – yet the future looks bright for British shoes.
John Saunders, CEO of the British Footwear Association, led a panel of British footwear experts, including Robert Perkins, COO of Hotter Shoes, Yull founder Sarah Watkinson-Yull, and Philip Marsh of Chatham, all giving insights into how Britain is putting its best footwear forward.
Each member of the panel produce their collections in the UK, giving them big competitive advantages.
"I think the benefits are enormous, such as supply chain traceability," explained Robert Perkins. "Being made in one place, through one process, by one set of people, makes our products more desirable."
Britain currently makes 6 million pairs of shoes a year and 25% of this goes to export. With Brexit looming, the opportunities aren't shrinking – they're opening up for UK-made shoes.
"Brexit is about the UK exiting the EU – it's not about pulling ourselves away from the world," John Saunders told us. "The rest of the world is a great opportunity, and what we discussed at Moda is that shoes that are 'Made in Britain' still have a hell of a following worldwide."
Marketing fashion to millennials made easy
Millennials are one of the trickiest demographics to market to – or are they?
According to the millennial marketing panel, it's all about service and experience with these customers.
Vocal and willing to shout about it, millennials will let you know what is and isn't working for them. They take the time to talk directly with brands and suppliers via social media, and expect a high-quality, fast service.
Don't get too hung up on purely digital marketing and shopping either. While it's true, millennials do enjoy an online browse, bricks and mortar can offer a tailored, personal experience – especially independents.
Our panel, comprised of online guru Paul McGregor, blogger and influencer Ting Thing, fashion e-commerce champion Michael Frackowiak alongside stylist Fran Lee who said it's just a case of identifying how millennials shop and catering a service towards that.
"To tap into the millennial shopping psyche is personalisation," explains Ting Thing. "That's where indies can thrive; they can really get to know customers one-on-one. Even if it's just opening up comms on social media to let them know of new stock; that personalisation and direct contact with the customer is what's going to result in the sale."
Another aspect of millennials is their love of all things social – not just in terms of social media either.
"We're more likely to want that social experience, like going to stores and taking photos, trying on items, and sharing them online," said Ting Thing.
Of course, the digital aspect of social can't be ignored – but how can you marry that with a trade show like Moda? Michael Frackowiak says "It's super simple: have something on your stand that people want to take photos of and share. Get those hashtags on the go. If 50% of the 3,000 visitors take a selfie in your stand, you're already there."
E-commerce doesn't have to be an online nightmare
For his second talk, Paul McGregor shared his experience in setting up and succeeding in an online retail environment. The combination of quality marketing, adding value to your brand before you buy, and providing a quality service works wonders in digital retailing.
Your marketing means targeting, targeting, targeting. "When you have an online business, you can be very targeted," Paul told us. "If you're too broad, you're competing with the likes of Boohoo, Fashion Nova, and the big names."
With targeted marketing, online stores can easily reach an audience who want those exact products.
Consider collaborating with influencers too. If potential shoppers see your products in the hands of a beloved fashion blogger, Instagrammer or Youtuber, that can be extremely valuable exposure.
We hope you enjoyed this season's show as much as we did and we look forward to seeing you at the Autumn/Winter edition in February.