28 Jun 2019
Moda meets Stehmann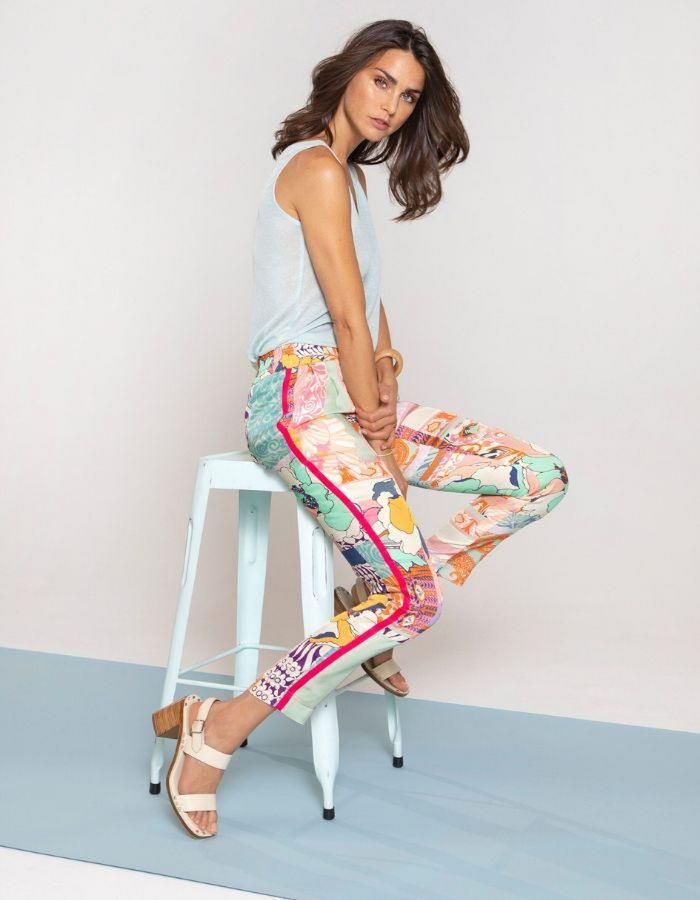 With Moda's SS20 edition right around the corner, we've been getting to know some of our brand favourites. That's why we took some time to get the lowdown on German based Stehmann on all things trousers and what they'll be bringing to the SS20 show. Hear from marketing director Judith as she dishes on the latest collection and more.
Can you tell us the Stehmann story? How did the brand start?
Fashionable design, comfortable fits and outstanding quality are the deciding factors for consumers and traders when buying ladies trousers. The STEHMANN brand has been offering all this and more since 1971. The independent family business carries out all steps from design to CAD and development to sales in-house and produces exclusively in Europe. With regard to retail, Stehmann has established itself as a reliable and loyal partner to the trouser specialist trade as well as to the mail order business for years.
What is your role in the business and what does a day in the life look like for you?
Following our "Passion for Pants" credo, my team and I strive every day to design and develop the best trousers for women. We are a small team with flat hierarchies that work closely together. So, I stand in daily close exchange with all areas.
What makes the Stehmann brand stand out?
In the early years of the company, the trouser specialist has been the European market leader in the Pull-On area for several years with the INA® & Co. styles. These flexible and comfortable stretch trousers are on offer in materials such as bengaline, jersey and high-tech cotton.
Along with the successful INA® & Co. styles, STEHMANN has been placing great importance on fashion-inspired trousers with sophisticated design, high-quality materials and a perfect fit. The fashion segment is developing very encouragingly under the STEHMANN brand and in the future too will assume a very important position within the collection.
Moda's 2019 theme is This is Me, celebrating inclusivity and diversity in fashion for real people – what does that mean to you and is this in line with the Stehmann ethos?
Well, that's a deep question, isn't it? So, let me focus on diversity. This is a value we live every day. This applies within the team as well as towards our customer. Women have very different and individual criteria, according to which they decide when buying a trouser. With our diversity in the collection, we can fulfil a wide range of these wishes and by delivering high quality made in Europe products.
What can Moda visitors expect from the SS20 collection?
Overall the Stehmann trousers stand for modern styles, innovative materials, powerful basics and precise fits. In SS20 the collection is based on pants that are so versatile that they can do more than just clothe you and, with great attention to detail, create an uncomplicated look for stylish, modern women.
One of the four key theme is "Hippie DELUXE"; batik prints, soft ice colors, fantasy prints and a hint of mint revive the flower power of the 60s.
Another theme is "Adventure" in which ethnic prints, graphics and floral designs underscore the desire for nature and adventure with a colour palette of off-white, vetiver, driftwood and refreshing Jaffa orange.
Maritime feelings are created with the theme "Blue Ocean". Exciting layered styles present themselves in flowing, silky matt fabrics. Everything is distinctly casual: feminine utility styles, pyjama bottoms and Bermuda capitalize on a summer feeling in combination with denim shorts and patched straight-legged pants. Coming to the surface: Fish feature as an all-over print!
Finally, in "Pure Power" function meets femininity; clean, cropped slim styles and jogging pants made from high-tech materials signal a new athleisure mode. Floral prints shine in bright colours. Elaborately styled cycling pants and leggings are presented in a feminine look.
Why have you chosen to show at Moda this season?
With our new sales agency, Morgan Agencies, Ruth Morgan, we believe we have an innovative platform with Moda to present the brand to one of the European key markets, the UK. We are looking forward to presenting the new collection to the UK trade.
Join us at Moda's SS20 edition on 4th – 6th August at NEC Birmingham and be part of the Moda family.