06 Aug 2019
Moda dazzles for SS20 and places networking high on the agenda to drive new business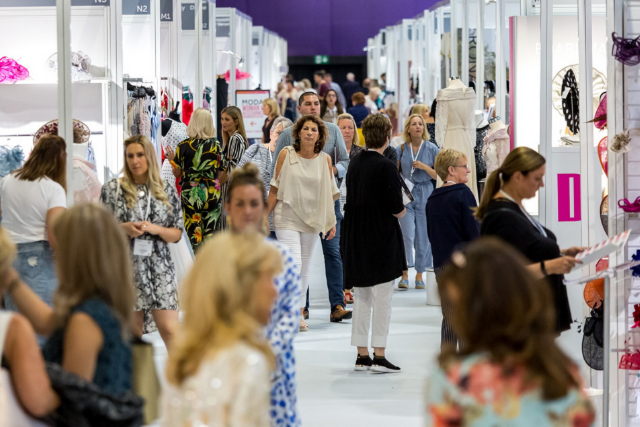 -"It's been the best show in years…buyers are here to buy" says David Rudd from footwear brand Mustang -
Moda, the industry leading fashion trade show and the UK's National Footwear Show, closes its doors on the SS20 selling season on a high after a buoyant show delivering sparkling new collections and a new speed networking feature facilitating nearly 1000 one to one meetings between brands and buyers driving new business connections and new orders.
As part of its increased investment into their Buyer Acquisition Programme, Moda created a dedicated Speed Networking Area with six sessions across the three-day show connecting VIP buyers with over 30 exhibitors. Exhibitors found the new feature extremely beneficial with many taking multiple new orders. For buyers it offered a fast, efficient and convenient format to meet new brands and discover their stories. James Lakeland, Owner, James Lakeland said: "The speed networking area is a great new addition to the show, it's a fantastic way to make new contacts and connections."
David McDonnell, Director, Style Omagh, Northern Ireland visits Moda every season and found the new networking space very effective, he said "We do most of our buy at Moda, and this season the new VIP buyer programme has been excellent. The speed networking is a really great idea, we've met new brands we would have probably passed by in the aisles so helps give us something fresh and new." Habib Kahraman, Managing Director, Brands for Fashion was effusive in his feedback saying; "The networking was such a good icebreaker, providing a great opportunity for brands to meet with buyers. We had the chance to explain who we are and what we do. They then came to see us on the stand and ordered."
Susan Blatt, Brand Manager, Jonny Drama representing Marie Méro commented; "We have had customers coming back to the stand as a direct result of the speed networking. That shows me, as they made the journey back to the stand, that the system must work. It's because it's so intimate, a very positive, nice experience, and certainly good fun."
Adam Gough, Event Director at Moda said; "We have spent months researching buyer's needs, talking to them to find out what we can do better and I'm delighted that the Speed Networking Area, one of the ideas that developed as a result of feedback, has been such a great success."
Across the rest of the show visitors were treated to a high-calibre content programme bringing the newest insights in the industry, the latest trends from trend forecasters Unique Style Platform, essential business advice and beautiful catwalk shows.
The Moda Directions catwalk presentation brought exhibitor's collections to life highlighting the key trends for SS20 including Tribal Impact, Floral & Fauna Folk, Print Me, Raw Luxe, Expect the Unexpected, On White, and Into The Night. Moda Woman catwalks featured sponsored looks from brands including Jayley Collections, Naoko and Portis, as well as the celebrity designed Vicky Pattison x Goddiva @ City Goddess and Stephanie Pratt x Goddiva @ City Goddess collections offering the ultimate in glamourous eveningwear.
Busy stands and aisles created a buzz throughout the three-day event, with positive feedback from exhibitors that, despite the political turmoil in the UK, trade shows such as Moda are a valuable and important platform for the industry. Justin Morgan, Managing Director of HB Shoes said during the panel discussion 'What are the priorities and opportunities now facing the footwear industry?'; "Moda provides a forum to dip into the minds of hundreds of retailer's minds. We get more feedback during these three days than we do from a whole season in a showroom and from agents. It is why we, as an industry, have to support trade events." Referencing the independent marketplace for consumers, Susannah Davda, from The Shoe Consultant added; "The high street is looking very generic. There is a huge opportunity for independent retails to do something different, to make their offer exciting and set the customers hearts racing".
The SS20 show showcased a strong ensemble of British and international footwear brands offering visitors the largest and most diverse footwear collections in the UK including Glamorous, Holster, Fly London, Joules, Rieker, Alpe, Peter Kaiser, Moda in Pelle, Hotter, Superga, Sebago, Reqins, On Foot, HB Shoes, Krisbut, Mephisto, XTI, Mustang, and Tamaris, UNISA, Ruby Shoo, and ART. David Rudd, Sales Manager from Mustang said; It's been the best show in 8 years. Sunday we wrote the most orders ever. The buyers are really here to buy!"
Steve Holmes from Superga and Sebago commented; "For us it's only footwear trade show that's relevant and gives us the opportunity to service independent shops. Moda also attracts a lot of Scottish and Irish buyers and that's brilliant for us." Joel Turner, Marketing Manager, Keddo added; "We come to Moda as it is the best show out there. We have been growing and growing our business by coming here and we have picked up more than 50 new customers this season. It gets better every year."
Visitors were also dazzled by leading womenswear and accessory brands including Mascara, Lace & Beads, Angeleye, Kaffe, Robell, Godske, Rino&Pelle, Marble, Ronald Joyce, Carol C Collections, James Lakeland, Mascara, Colette for Mon Cheri, Ella Boo / Isabella, Pomodoro, Gino Cerruti, Suzie Blue, Latte Clothing, Kelly Craig Collections, Big Metal, Tilley & Grace, Suzanne Bettley, Max & Ellie, Tempest Designs, Whiteley Fischer Hats, and Zelly.
Veni Infantino, Designer, Ronald Joyce, was overwhelmed by the number of orders this season, saying: "It's been incredible, we've done record numbers." Ian Palladio, Palladio Associates representing Rino&Pelle said: "Moda is an integral part of our marketing plan and we will always want to be here. We've had a strong show, better this spring/summer season than we did last spring/summer, seeing a steady stream of customers. We've also met new customers which is one of the main reasons to come to the show."
Looking ahead to next season following the recently announced plans for Moda AW20, Tommy Lee, Head of Womenswear at Moda, said; "Our new edit for AW20 will see Womenswear grow into new areas which I am incredibly excited to bring to life. Our sustainable and contemporary additions will help us respond to the market need in real time delivering an industry relevant show."
The AW20 edition of Moda takes place on the 23rd – 25th February 2020 in Halls 6, 7, and 8 at the NEC Birmingham.