27 Sep 2019
Meet the buyers… Pauline and Louise, Catwalk Falkirk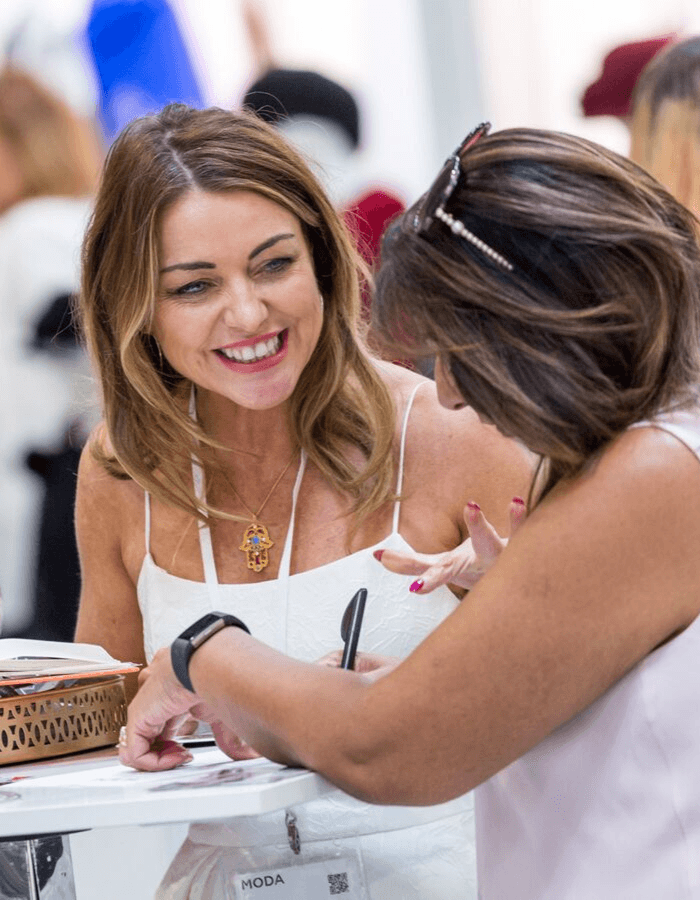 We sat down with sisters Pauline and Louise, to get a look into their Moda experience, what it's like to run a family business and more.
As the show that brings fashion to the heart of the UK, Moda is a go-to for buyers from both the UK and Ireland. We sat down with our second sibling buying team Pauline and Louise, to get a look into their Moda experience, what it's like to run a family business and more.
Tell me a bit more about your store – what's the story and why did you start it?
We started the store 15 years ago this year. We both come from a family business – our parents ran a hotel business before they retired – and so we were always keen to look for an opportunity for ourselves. So, a shop came up for sale and we just felt that there was a market for fashion in our town and it had been missing.
Falkirk used to have a really good independent high street and of course, there are the chains there now too, but we felt that there was something missing for the slightly more affluent, older woman; the kind of lady who is looking for something individual that they can't buy in the big multiples. So the shop itself started off as myself and my sister, and one other lady, and as we've grown we've got steadily busier and our team has grown too.
Our main aesthetic is definitely mother-of-the-bride and we've become a destination for it. That is what most of our customers come for, and some of them come from miles away. We do have the local ladies who come in as well to buy their everyday clothes, so we stock casualwear as well.
Why are you attending Moda this season? Why do you think trade shows are so important to the fashion industry?
We come to Moda every season! Most of our suppliers are here and we like coming here to meet our friends and socialise as well. We get looked after really well and it's good networking with similar businesses. The catwalk is one of the highlights, so we like to see that too.
I think trade shows are important for those reasons really. You can get everything under one roof – so we can look at occasionwear and then match up with shoes, bags, accessories etc – and it's so useful to network with other business owners. You can't properly discover a new brand or experience a new product in a brochure.
Moda's theme this season is #ThisIsMe which promotes diversity and body positivity in fashion – what does this mean to you?
Well, I would say that people will always buy for their own nature, you know? You can't just look at someone and say, "she's so glamorous, I know exactly what she'll like", it doesn't work like that and you can't judge anybody by their look alone. It comes down to how they feel in what they wear and what they're wearing it for. It's about fit and quality and what makes them feel special.
What's your favourite thing about occasionwear?
It comes down to giving people a really good experience. It's a day they're never going to get back and so the outfit has to be right. For a lot of our customers, they spend a lot of money on looking perfect for one day and it's often more than they've ever spent on themselves so it's so important to make them feel special. It's exciting for us and it should be for them too!
If you could sum up Moda in three words, what would they be?
Fun, fashion and friends!
Miss out on meeting the buyers this season? Make sure you're at the next edition as we launch our vision for a new Moda. Join us from 23rd-25th February 2020 at the heart of UK fashion.