27 Aug 2019
Meet the buyers… Antoinette and Caroline, Guinan Shoes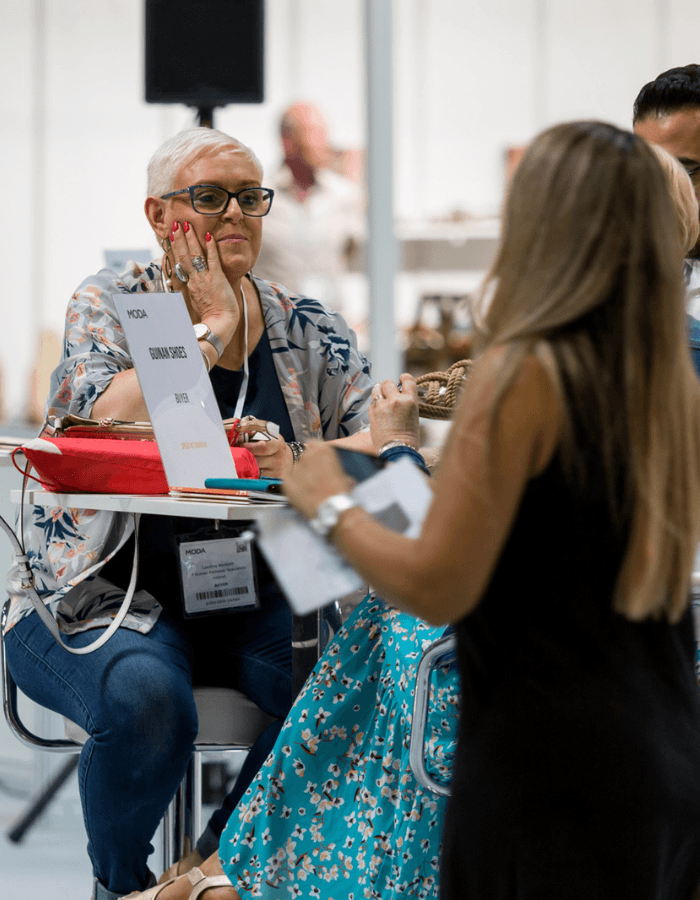 As the show that brings fashion to the heart of the UK, Moda is a go-to for buyers from both the UK and Ireland. Representing the Irish footwear contingent, we sat down with sisters Antoinette and Caroline, to get a look into their Moda experience, what it's like to run a family business and more.
Tell me a bit more about your store – what's the story?
Antoinette: We have a family-run, small shoe shop in Birr, in the middle of Ireland. Our aunt and uncle own it and we both work there, so it's literally all in the family! Caroline has been there for a long time and I've been there for about six years now. We love it, of course! We're the only shoe shop in the town, which is good for us because it gives us a lot of freedom to choose brands and change things around when we want a refresh.
Caroline: We do ladies, men's and children's footwear, so it's a busy little place. Our favourite is definitely the ladies' footwear, of course! Children's' footwear is more of a challenge in every sense of the word, ladies' is just so much easier! Whilst we can buy based on what we like, we do have to remember that our customer base is only relatively small, so we can get to know what our customers will and won't buy. So, sometimes, even when we like it, we have to remind ourselves that maybe our customers won't!
Why are you attending Moda this season?
A: We normally come here in the February of every year, but this is our first time attending Moda in the summer as well. The one main reason for that is that we chose Alpe two seasons ago and we've only ever bought from them for the winter before. On top of that, there are a couple of brands here this season that we wanted to look at for more summer styles; we're looking for the wedges and sandals that we felt were missing from the middle of our market. So, we thought, this is the ideal opportunity to just come and see what brands are offering this season. We have definitely sourced a couple of new brands
C: It's nice to talk to other retailers as well, who stock different brands. For example, we've already had conversations with other retailers and we've discovered two new brands to us, just from speaking with them. We've also bought a new range of handbags and scarves this season, so we've ventured a bit further down into the accessories sector this time as well.
How did you find the speed networking this season? Was it useful for you?
C: It's a great concept!
A: We didn't quite know what it was going to involve so it was really nice to see what it was and meet with some of the brands.
Why do you think trade shows are so important to the fashion industry?
A: I definitely think it's about having everything under the one roof, that gives you a chance, especially when you have more than one day, to kind of browse and mull things over before you write any orders. It allows you to have a talk about it and a think about it and then you can come back the next day.
C: And also, I think that if you're looking at two ranges that are very similar and you've just bought one, you can go back to the other range with the first one fresh in your mind to see if there's anything that the second collection might offer in addition. Outside of trade shows, you could be seeing the two ranges weeks apart and it means you have to really think about what you've already bought. In that sense, it's really good, especially for independents.
And of course, the interaction with other retailers and other suppliers – it's just so social and we spend a lot of time talking!
A: We find because we run a family business, it's naturally more personal, so we have to know our customer really well. It's as much about having a chat and knowing what our customers like and it's exactly the same for us when we pick a brand; we simply have to have that relationship with whoever our suppliers are. The customer service end doesn't stop at our shop staff and we need to be confident in the support side from the brands as well.
Of course, it's also really nice to know the faces and stories behind the brand as well, so you have something really special to tell your customer about a product. That's the side of the brand or product that we would never see if we didn't come to Moda.
Has anything caught your eye so far?
A: Well we went to the catwalk shows this morning because we're obviously looking to keep an eye on the trends for next year.
C: The trainer thing is really taking off, as we all know!
A: It's just so important for us to know the trends that are coming forward and whether or not we've got it right. So, the fashion shows are really important for us, but I also love watching them, so I just use that as an excuse!
So obviously trainers are a key trend for you right now, but are there any other trends you're looking out for at the moment?
C: Well we do a bit of high fashion as well
A: We do, and what we've found is that it's a much more difficult market than it used to be. And speaking to other retailers, we've found that they're having the same struggles so it's nice to know that we're not on our own in that.
C: And the other thing we've found is that age is mattering less and less. We used to have a section in the shop for the older ladies, but there's no such thing as an "old lady" anymore, so you don't have that same divide. You have to now cover from 30 to 80 with everything you buy, so you have to think of things like wider fit, colours, everything.
A: But for us now, I think it's trying to fill that demand for more fashionable styles that can kind of be more versatile. So, for example a high-heeled shoe that can go with a nice outfit without the price being very high. Our customers just don't want to spend money on that pair of shoes that go into the wardrobe and only come out when they wear that one outfit.
If you could only wear one pair of shoes for the rest of your life, what would they be?
C: Mine would have to be my trainers, and also, a German brand that are here and that we stock called Waldlaufer. I wear orthotics because I have bad ankles and they are just so comfortable. They're silver and they go with everything; I can put them with a dress or with leggings or jeans. Love them.
A: I think for me, it would have to be a nice little pair of high-heeled boots. I pop them on with a midi dress or with my jeans and I just feel "dressed", so that's me!
What three words would you use to sum up Moda?
Convenient, informative and enjoyable.
Miss out on meeting the buyers this season? Make sure you're at the next edition as we launch our vision for a new Moda. Join us from 23rd-25th February 2020 at the heart of UK fashion.