03 Jun 2019
Meet the buyer… David and Elspeth Livingston & Deborah Bennett, Sonia's of Beaumaris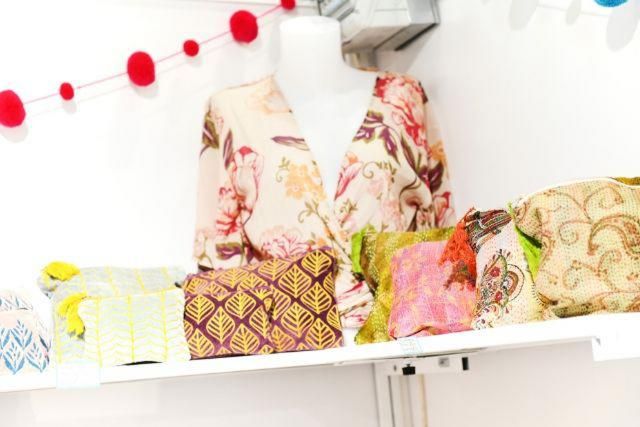 Moda is the show that brings fashion to life in the heart of the UK and the highly anticipated show has a reputation as being one of the country's friendliest and most welcoming fashion trade events. For the AW19 edition, we sat down with some of Moda's most dedicated buyers to learn a bit more about their businesses, as well as to get their thoughts on the UK's most anticipated fashion trade event.
For the team behind fashion boutique Sonia's of Beaumaris and gift store Leisure Lines, Moda is well and truly a family affair. Husband and wife team David and Elspeth sat down with us, accompanied by their daughter Deborah, for a catch up on what makes Moda so important to them, as well as to tell us a bit more about their businesses.
Tell me a bit about your stores and the story of how you started
David: We have two shops, Leisure Lines, which I run, which we've had for 30 years now and that's a lifestyle store above all else. And then we have another shop, Sonia's which we took over when it was very much a "twinset and pearls" shop; that market's changed dramatically so the shop has changed dramatically with it. We perhaps go more "smart-casual".
Deborah: It's a family business and I started at the shop fifteen years ago and my daughter's now coming into it as well, which again, is changing the direction of the business.
What do you tend to look for in your collections?
David: There's two ways of looking at it really. The first way is that we will go to the brands we normally buy from and look at their new collections-
Elspeth: And fingers crossed they have a good collection!
David: But every time we come here, we always try to find one new label as well to refresh things.
Deborah: It's nice to find something new – you get the chance to look around in a relaxed atmosphere.
David: Something that catches the eye is the extra thing, but the normal things are the collections from the labels we usually buy from. If there is a collection we're not so sure about, that's when we'll have a look around for a new brand.
How do you create an experience for your customers in store and how important is that?
Elspeth: It's knowing your customer, isn't it?
Deborah: I think so, and a lot of our customers have become friends because they come in so regularly.
Elspeth: We buy for them as well; we buy things with certain customers in mind and then we tell them when it's come in.
Deborah: People just come in for a chat sometimes as well!
David: We're also in a tourist area – we're on the coast – so we have a combination of some regulars and a lot of people who come up on holiday. People also come in off the street and we make it very much a browsing shop. We're not pushy, but we'll help them when they want. It's a relaxed atmosphere. Friendly and relaxed.
How do you get into the mind of your customers to understand what it is they want to buy?
Elspeth: You just do really, you just know. Because you're not buying for yourself, you're buying for them. Then you see the trends that are here, and the colours, and you might not like them to start off with, but you learn to love them when you see them in collections.
How do you think you've overcome the challenges facing independent store owners at the moment?
Elspeth: Because we're small, we can adapt.
David: And I think that it's good that we've now got my daughter and granddaughter on board as well, it keeps us from getting set in our ways.
Deborah: I think having add on items does help to bring people into the store as well. I think adapting our product range has helped to bring more footfall in.
Why did you choose to attend Moda this season?
Elspeth: We've been coming to Moda for 20 years twice a year.
David: It's a very important show for us. We find it very useful because it's everything under one roof which is what you want really.
Elspeth: It's a social thing as well. We know all the agents and can chat to them here. It's very friendly.
If you could describe Moda in three words, what would they be?
Deborah: Fantastic location
Elspeth: It's exciting coming here – there's a buzz about it.
David: Relaxed, important and friendly
Save the date! Moda returns to the NEC for SS20 on 4th – 6th August.