24 Jun 2019
Meet the buyer... Sheila Barry, Donaghy's Shoes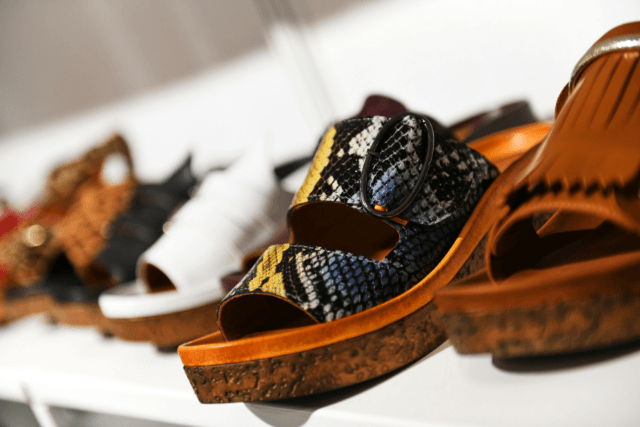 Moda is the show that brings fashion to life in the heart of the UK and the highly anticipated show has a reputation as being one of the country's friendliest and most welcoming fashion trade events. We sat down with some of Moda's most dedicated buyers to learn a bit more about their businesses, as well as to get their thoughts on the show.
Hear from Sheila Barry from Irish business Donaghy's Shoes, as she talks footwear trends, customer experience and more.
Tell me a bit about your store and the story of how the business started
I work for a business called Donaghy's Shoes, I'm the General Manager and Buyer. The business itself is a family-owned business which has been trading for around 60 years. We have a ladies', men's', children's and sports department so we have quite an age group to fulfil when we're out buying. It's a good size of a store; it's pretty big. It's in a small rural town, Banbridge in Northern Ireland, but we have a good customer base from all over Ireland.
What are the upcoming trends you're particularly excited about this season?
Well obviously, at the moment, we're coming into Spring/ Summer season which is all about colour for us. I think the comfort aspect is also coming into a lot of footwear now. It used to be that people wanted heels and other styles, which are still very much a part of our business just not as strong as it would have been five years ago. Since the trainer look has become popular, footwear has become more about comfort combined with style. Whilst chunky soles are becoming popular, I think our customer base is still more elegant and is looking for a smarter trainer.
How do you create an experience for your customers in store and how important is that?
We pride ourselves still on customer service. We are a family-owned business and our staff go above and beyond for our customers. When someone comes in, they're given the best service because that's what we feel we have to give, and then they return again. It's all about customer service. We do lots of events in store as well and work with our brands to do social media events and giveaways as well.
Why did you choose to attend Moda this season?
I attend Moda twice a year, and have been for over 20 years. I find it's a good platform for us and I do a lot of buying here. Some of the brands here, I don't get to see at home, and if they are over in Northern Ireland, it's usually difficult to get an appointment with them and then you miss collections and your opportunity to buy. I also come to see what's around; a lot of brands have their new season colours and trends on show which gives you a vibe for what you can bring forward into your next season buys. You always pick up pieces that you might otherwise have missed as well. It's important to us as a company to come to shows like Moda. A lot of the good footwear houses are here.
If you could describe Moda in three words, what would they be?
It's a dream for anyone who loves shoes!
Save the date! Moda returns to the NEC for SS20 on 4th – 6th August.