15 Aug 2019
Meet the buyer… Mary Swann, Frox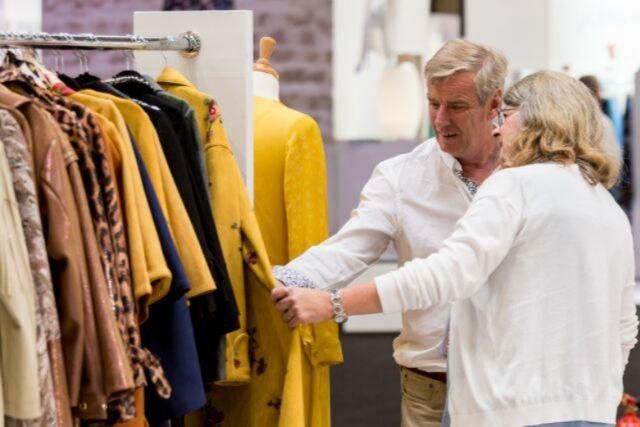 As always, Moda's famous Hosted Buyer Programme brought some of the industry's key names from the UK and Ireland to the show. To kick off the SS20 Meet the Buyer series, we spoke with Mary Swann, buyer at Frox, to find out a bit more about the Scottish shop and why she visits Moda each season.
Tell me a bit more about your store – what's the story and why did you start it?
Well, I've been in the business for 37 years now. It's a small shop in a nice suburb of Glasgow, called Bothwell. It's lovely! It's been good. We sell middle range ladieswear, no shoes and it's not mother-of-the bride. We do have outfits that could be worn for a wedding or an occasion, but not the full regalia! It can be difficult to find that kind of versatile style of dress. We look for things that are easy to wear and fit well.
Why are you attending Moda this season?
We're always looking for new brands. Always! And I do come here to do business with some of my regular brands too. I have looked at some new brands here and I find that there are always new things to look at and get more information on, so that's good.
What do you look for when you're buying?
I do have certain customers in mind when I go around the show and when I'm buying. When customers come into the shop, they more often than not have a clear idea of what they want. I also have lots of regulars – I think most shops do – so it's about trying to keep hold of them. We always need to have new stock, we can't rest on our laurels and have the same old, same old. Women at aged 70 and even 80 still want style, they don't want frump. They're looking for something that's age-appropriate but still young-looking and fun. They're younger than they used to be!
What did you think of the speed networking sessions this season?
Oh, I found it very useful! It's something a bit different, isn't it? It was nice to meet all the suppliers and hear about their collections that you might not have seen otherwise.
Miss out on meeting the buyers this season? Make sure you're at the next edition as we launch our vision for a new Moda. Join us from 23rd-25th February 2020 at the heart