29 May 2019
Meet the buyer... Fay & Lynn Clark, Finale Shoes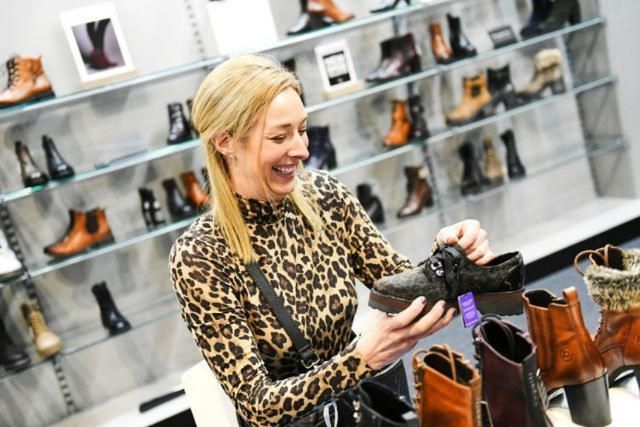 Moda is the show that brings fashion to life in the heart of the UK and the highly anticipated show has a reputation as being one of the country's friendliest and most welcoming fashion trade events. For the AW19 edition, we sat down with some of Moda's most dedicated buyers to learn a bit more about their businesses, as well as to get their thoughts on the UK's most anticipated fashion trade event.
As Moda is the UK's National Footwear Show, it only makes sense that each season footwear buyers from around the country and around the world flock to the show. We sat down with mother and daughter team Lynn and Fay Clark to find out more about their Northumberland-based store.
Tell us a little bit more about the story of Finale and how you started.
Lynn: We're a small independent shoe shop in a lovely village called Corbridge, which is about 20 miles west of Newcastle. I've had the shop 15 years. Its grown and Fay, my daughter, joined me about six years ago and has moved us forward, drastically, through the internet and social media side of things, which is something I wouldn't have done. We have quite loyal customers and it works well. We work really hard! We have four part-time members of staff who are all very supportive as well.
What do you tend to look for in your collections when you're buying?
L: We have a more mature customer, I would say, who is quite discerning; she wants it to be comfortable, but she also wants it to be stylish, which I think is the biggest challenge we've got now. There's a lot of big chunky soles and things around, for example. I'd never had a pair of trainers in my shop, until Fay joined and suggested it was the way fashion was going. She's brought the younger element to the store, so we are now seeing the younger generation come in to the shop.
Fay: I think we have a very broad range of customers. We can have two or three families where we have the grandmother, the mother and the daughter coming in and all three of them would buy. I think as a small independent, you have to appeal to quite a wide range rather than just having a niche. Because we don't sell anything other than shoes, handbags and accessories, we have to have a broader range to survive in the current economic climate; we can't just pitch it to occasion wear or casualwear, you have to try and encompass a little bit of everything.
How do you create an experience for your customers in store and how important is that?
F: As Mum said, it's usually her or me in the shop, along with the staff. The only time that doesn't happen is when we're at trade shows. Customer service is our number one. It's very much a personal shopping experience for everybody that comes in.
L: People don't really know what they come in for. If they come in for something specific you can try and help, but actually, they might think they know what they want until you show them all the options. It's also important how the customers see you. If you are dressed smartly, with nice shoes on, they might change their minds when they see how you pair a style with an outfit. We like to make them feel special as well. We get down on the floor so many times to help people put their shoes on and that's not a problem! All the staff are taught from starting that everybody who comes in is acknowledged and smiled at. It makes such a difference. Nobody's allowed on their mobile phones in the shop, we don't answer the phone if it rings and there's a customer in. All those things make the shopping experience.
F: We work very closely with all of the other traders in Corbridge to make it a destination place. We're very fortunate that we're all independents. We have a menswear store, a ladieswear store, we have independent cafes, we have a variety of interior shops, so we have a little bit of everything. People do come to Corbridge to spend a bit of time there and people will also come in with an outfit that want to try with a new trend or try something different with.
We do try to keep on top of the trends and fashion and then we dilute that a bit. We are in the north and sometimes trends don't come as far as us and it's not always practical in the countryside to have particular trends across all the age groups. It's all about tailoring it to your customer base and how they're going to take it on board, but I think the customer experience is what we would hope most customers would come back to us for. Yes, they would love the product, but they would have enjoyed coming in to purchase it, they would have got as much help as they wanted, or they would have just browsed around and just had us there if they needed us; either way, they would think, "I really enjoyed that, I'm going to come back."
Why did you choose to attend Moda this season?
L: I've been coming to Moda for the last fifteen years, I think it's a really important show. I think it's probably a "middle of the road" show in terms of the brands displayed here. This is where a lot of the brands that form the foundations of the shop exhibit. These are the brands that I've worked with for fifteen years and the ones that customers ask for in the shop. For me, it's really important to have a northern show, rather than just London-centric.
F: I think people come here to write orders.
L: And that's what we're all in the business for! Moda's also a nice open show, I can walk down the aisles and say, "that looks nice" and there's nothing stopping us from hopping on a stand and having a look. That's how we find new brands. We find that really helpful.
If you could describe Moda in three words, what would they be?
F: Commercial, friendly, useful
Save the date! Moda returns to the NEC for SS20 on 4th – 6th August.