20 Feb 2020
In conversation with Laura Aldous, Unique Style Platform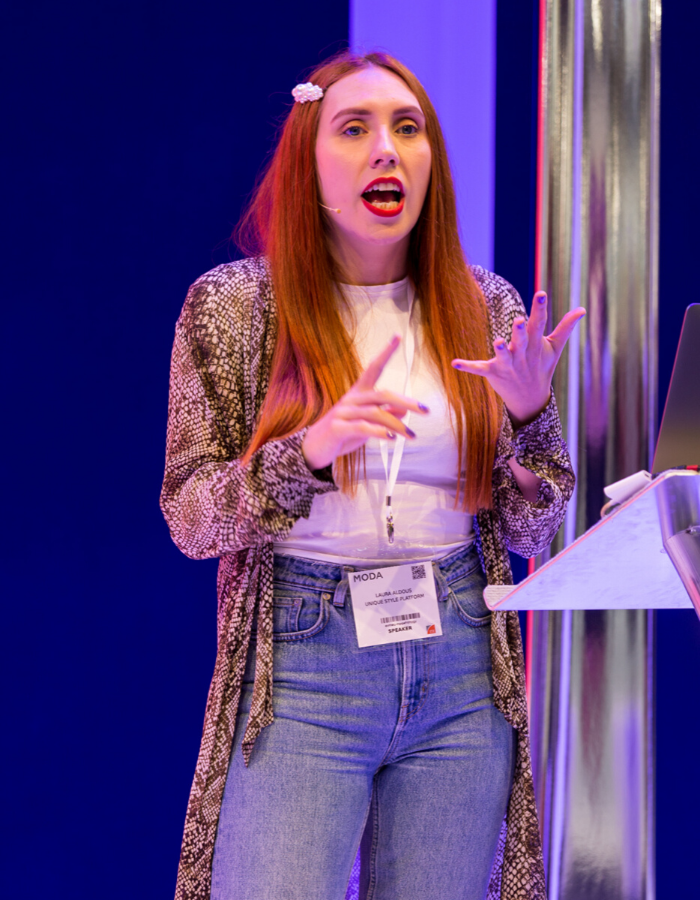 This season, Moda is once again, proud to be partnering with trend experts Unique Style Platform. Forecaster Laura Aldous will return to the Moda stage this season to take us through the four macro trends that have inspired the Moda Directions catwalk. We sat down with Laura to find out a little more ahead of the show.
Tell me about your career background – how did you become a trend forecaster?
My background is in print and textile design, however I always enjoyed the research and concept part of the process much more than the design stage. I met Jane Kellock, Founder & Creative Director of Unique Style Platform, at an event and started to do some work for the company focused on fabric, print and colour, leading on to a full-time role that also encompassed macro trends and lifestyle. Trend forecasting suits my love of design, but also has an analytical and 'bigger picture thinking' aspect that I really enjoy.
Can you take us briefly through the process of trend forecasting?
At the beginning of each season each member of the team will conduct their own research, looking at any exciting global events that will be coming up as well as new and exciting innovations that are driving fashion, beauty, lifestyle, technology, retail, politics and culture. We then have a brainstorming session as a team where we combine our research to create overarching macro trends for the season.
These bigger picture trends then drive more commercial directions across colour and fashion product. As trend forecasters we are constantly researching and reviewing, analysing these developments, keep ahead of how consumers are living and what this means for what they want to buy.
You'll be taking us through some of the upcoming AW20 trends at Moda – can you tell me a bit more about what these will look like and what's inspired them?
I will be presenting our x4 Macro Trends for the A/W 20/21 season at Moda, exploring what these will look like for fashion and colour. We started the season thinking about how politics, climate change and social media are creating conflict in society, and how this is forcing us to try and seek balance in an uncertain world.
With the first trend, Hibernate, we are inspired by the idea of slowing down and taking time to be considerate, seeking refuge from modern life. As staying in becomes the new going out, our homes become sanctuaries, while coziness is also embedded into retail spaces to add emotion and create a sense of belonging.
Attune centres around the idea of making conscious choices, as decision exhaustion and over consumption take their toll. Consumers seek authenticity and honesty, buying less and paring back to the bare minimum sees a new breed of consumer choose to live a simpler, less stressful life.
Opulence draws inspiration from the Aristocracy, as opulence, individuality and a little bit of bad behavior influences a hedonistic mood rooted in tradition. The mood is inspired by historical references and ancient ceremonies, as we re-imagine the past to create hybrid and eclectic aesthetics.
Do you have a favourite out of the trends you'll be presenting, and why?
Out of the 4 trends, the final trend Nu-Tech is probably my favourite. I am fascinated by the idea of extended intelligence - blurring humanity with technology to create a new hyper reality. Harnessing digital power to create unexpected, future focused aesthetics and environments that are disturbing, fantastical and multi sensory.
The growing developments around virtual product are also very interesting and hold exciting potential for the future of design – whether it be digital fashion, AR beauty or virtual packaging. As virtual fashion seems ever closer to being a reality, we recreate the digital in physical form with IRL garments, creating a directional, sports-inspired streetwear mood where athleisure is elevated and optimized.
Can you describe your personal style?
My personal style is quite classic, combining my usual jeans and trainers with blazers and tailoring. I do love to incorporate colour and print as much as possible, and about 50% of my wardrobe is taken up with leopard print. I am also never seen without a red lip!
Unique Style Platform is Moda's exclusive trend partner – why have you chosen to work with Moda?
We love working with Moda as they make the trends for each season aspirational yet accessible. Also it is refreshing to have such a strong focus on footwear and accessories. We work with various F&A brands so it's great to be able to share our insights into this area.
What are you most looking forward to at Moda this season?
As well as being on stage at Moda and having the chance to share our trends for the season, I am looking forward to seeing the trends come to life on the Moda Catwalk. Also, some of the other seminars on the programme are extremely interesting, and it will offer the chance for me to take some more insights and inspiration away with me.
Meet Laura, discover the trends and enjoy three days of discovery at the heart of UK fashion. Join us in Halls 6, 7 & 8 of the NEC Birmingham from 23rd - 25th February.
---
About Moda
The heart of UK fashion, Moda is the key meeting place for mainstream fashion, delivering a high quality and cost-effective platform for mid-market brands and ensuring a commercially viable and convenient buying environment for retailers across the UK and Ireland. Bringing together over 1,200 collections under one roof at the NEC Birmingham, to deliver the complete season's overview to over 9,000 fashion buyers, the show also brings fashion to life on 16 catwalk shows throughout the three days to inspire buyers and sell brands, alongside a comprehensive retail-focused seminar programme, interactive workshops and networking events.