19 Feb 2019
History in the Making at Moda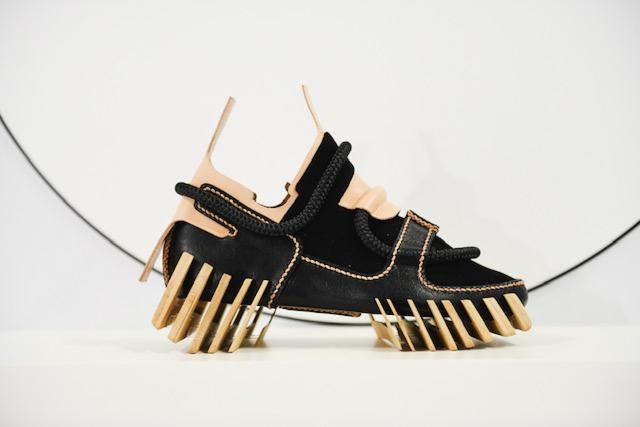 Moda is delighted to announce its collaboration with De Montfort University Footwear Design BA (Hons) course and launched the inaugural History in the Making Footwear Design Competition. This exciting initiative showcases incredible young talent and the future of footwear design and the winner, Dimitri Gabellier, was announced at Moda this week.
The History in the Making brief asked entrants to design and develop a range of footwear that interprets the broad spectrum of 'heritage' incorporating fashion influences, materials and colour trends for the Autumn/Winter 19 season. Six shortlisted designs were displayed in the heart of the prestigious Footwear section of Moda.
Julie Driscoll, UK Regional Director at Moda organisers ITE Group, said at the ceremony: "The creative output was staggering and the process of selecting the final six shortlisted designs was painstaking, to say the least. Congratulations to Dimitri, Sum Kim, Hyejin, Charity, Tasha and Elizabeth for making the Moda shortlist. We are delighted to announce the winner is Dimitri Gabellier."
Discussing the inspiration behind his winning design Dimitri said: "My project takes inspiration from the Japanese martial art, the Hojojutsu. It was used by policemen during the Edo era (1603-1868) and is the art of using a rope to capture, restrain, transport and display suspects and criminals. The sole is made from bamboo, which was the main material (with rope) that police used as a pole to restrain people."
Congratulations to Dimitri Gabellier and the shortlisted entries.
Moda continues today from 9.30-4.00. Get your ticket now.