20 Apr 2022
From Online to Experiential Retail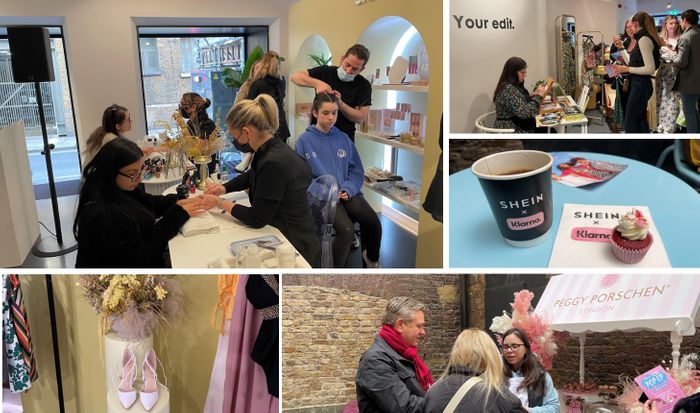 Shein, the online fashion retailer rivalling Zara and H&M, opened a pop-up store for three days in London's Covent Garden in partnership with payments provider Klarna. Some people thought they could buy products as in any other brick-to-mortar store, but Shien had something else in mind for their first foray into the physical retail experience in Europe.
As you entered the pop-up store you could sense the excitement, there was a DJ playing upbeat music, and people gathered around different areas. Everyone was able to enjoy a free coffee and cupcake by Peggy Porschen, and choose a bouquet from Fori Floral Studio to take home.
There was also a couple of places to have your photo taken like a celebrity, but the most popular areas were all about pampering: a manicure station and makeup done by a professional artist. Special events happened throughout the three days, from trends and style talks with HELLO! Magazine to yoga and calligraphy classes.
A couple of influencers, one of them with over a million followers also offered style sessions in-store, and there was even an illustrator designing people wearing their favourite outfit on display.
Just as in a showroom, everything on display remained on the shop floor. Customers were advised to scan a QR code to order whatever they wanted straightaway for a next day delivery. For Shien, it was all about providing an entertaining retail experience while boosting online orders through the brand's app.
Shein is raising funding at a valuation of $100 billion, which could potentially make it worth as much as Zara and H&M combined. The brand has been labelled as 'ultra fast' fashion, as it adds over 10,000 new products a day and ships to 250 countries.
Nonetheless, it's interesting to note that even an online business sees the potential of bricks-and-mortar and invests in a pop-up store to provide an entertaining retail experience. This is a great way to connect and engage with both existing and potential customers.
Retailers know they need to go beyond the traditional shopping destination and offer much more, a whole lifestyle. It's not a coincidence that Flannels new flagship store in Liverpool will include a Barry's fitness studio, that's just the way forward.
Suzanne Ellingham, our Sourcing Director and former Head of content for Spring Fair, talks to Charley Crocker, from The Pop Up Agents, and three of the fantastic makers, and they talk through the local authority-led Pop Up scheme Pop-Up Horsham. This acted as a showcase for local businesses and products, had and innovative use of Tech, and explains how it can be a valuable tool for local authorities and retailers alike.