21 Aug 2020
Fashion Together meets Kerry Bannigan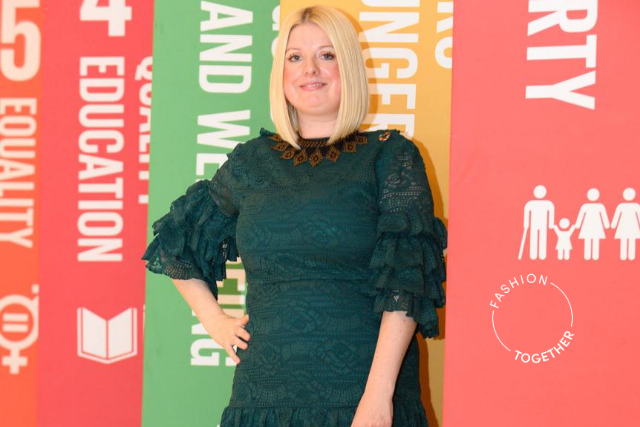 As we prepare to bring fashion to your home with Fashion Together in just a few weeks time, we've been taking the opportunity to catch up with a few of our speakers. Today, meet Kerry Bannigan, founder of Conscious Fashion Campaign...
Conscious Fashion Campaign is a key sustainability partner to us – tell us a bit more about what you do and why you founded CFC.
The Conscious Fashion Campaign, in collaboration with the United Nations Office for Partnerships, engages leading global fashion industry events to accelerate collective action in support of the Sustainable Development Goals. The campaign facilitates high-impact partnerships that advocate sustainable solutions and innovations for the fashion sector to address the world's most pressing social, economic and environmental issues. With an understanding of the fashion industry and the United Nations I could see the gap between the two worlds collaborating for positive change. Reports were showing the negative effects from pollution to supply chain to waste that the fashion industry was causing and I wanted to bridge the gap to highlight the Sustainable Development Goals as a coherent framework that the fashion industry could implement.
As an event producer and creator who has built activations and event based companies for over a decade I know the influence of convening. The Conscious Fashion Campaign sought to connect with the leading fashion industry events, like yourself, to share education and awareness to the audience of industry stakeholders and business decision makers to enable the Sustainable Development Goals to scale.
Together, the Conscious Fashion Campaign and Pure London have implemented dedicated sustainable development education, worked with exhibiting brands to discover their Sustainable Development Goals journey and visualise that in their booth set-up for retailers, increased the #PowerofOne Campaign, hosted educational media breakfasts, curated a conscious fashion exhibition and recently launched a monthly webinar series. The digital series titled 'Reimagining fashion for a post-Covid world' explores the intersection of the Sustainable Development Goals and business, sustainability in fashion, building more collaborative business models, and shining a spotlight on those making revolutionary changes.
Do you think the pandemic has had an impact on the way brands, retailers and suppliers look at sustainability in fashion?
The pandemic has unveiled the fragility of the fashion industry and the systemic changes that need to happen throughout. Brands, retailers and suppliers are each facing their own scrutiny from the sector and consumers whilst a larger picture points to how does the fashion industry move forward together. Collaboration and communication amongst industry are paramount and now more than ever sustainable business is critical. Responsible business sits with all stakeholders in the sector and the pandemic has brought issues such as cancelled orders affecting the garment workers to the forefront of media platforms for consumers to understand further.
With the pandemic comes the economic fallout that brands, retailers and suppliers are faced with, however sustainable development efforts to date cannot be forgotten and it needs to be implemented by those that are exploiting for fashion success.
The topic of your panel at Fashion Together will be #BuildBackBetter. Where can businesses who want to make a difference start?
Internal reviewing is the beginning. What does the business stand for? What does the business value? How are what you think you stand for and value reflected in how the business is operated from hiring, fabric choice/usage, suppliers, manufacturers, wages, working environment etc.
The Sustainable Development Goals are the blueprint to achieve a better and more sustainable future for all. They address the global challenges we face, including those related to poverty, inequality, climate, environmental degradation, prosperity, and peace and justice. This framework can be utilised by businesses to integrate sustainable practices – whether starting locally in the community to nationally and globally.
What are the key lessons you've learned from the lockdown?
The lockdown emphasised my daily mantra of be grateful, be kind, be aware and do something.
This time also re-enforced the need of boundaries, digital detoxing and the importance of supporting local.
Finally, do you have any words about the future to share?
Wake up and do better!
We really need to take stock of what we have done to people and planet. As consumers we need to understand the ramifications of seeking immediate gratification from browsing, ordering to receiving and to educate ourselves further on the human element of fashion. Learn to love your wardrobe, value your belongings and invest in pieces that invest in the workers that made them without depleting the planet. If you wear clothing, you are involved in this broken system that needs your help.
As businesses we have a responsibility to do better, be transparent, seek to create positive inclusive work cultures, to never stop learning about supplier and manufacturing practices, to be brave enough to hold companies accountable for poor business ethics and to be bold in trailblazing the way forward.
In the words of my friend Steve Kenzie, Executive Director, UN Global Compact Network UK "incremental changes lead to transformational change."
Hear more from Kerry as she joins our #BuildBackBetter panel at Fashion Together. Register here for the session which takes place at 3pm on Tuesday 1st September.