25 Aug 2020
Fashion Together meets Geraldine Wharry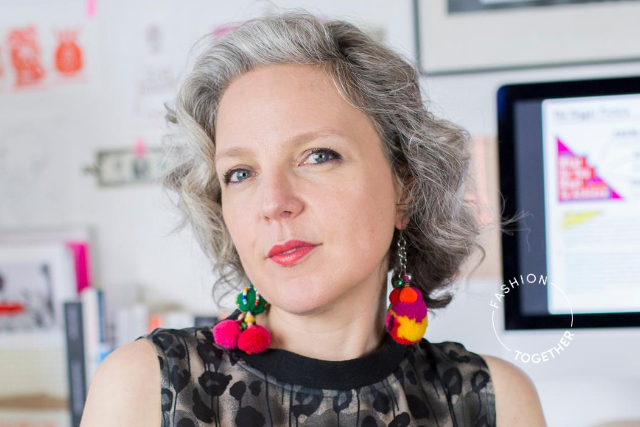 Futurist Geraldine Wharry will be sharing the macro-trends set to make a difference in the fashion industry during her session at Fashion Together on 2nd September. Ahead of the main event, we've asked Geraldine a few questions to find out what's on the agenda for her session.
As we approach Fashion Together, can you tell us a bit more about the macro trends you will be presenting on 2nd September and what our visitors can expect from you?
I will be covering three trends that have a two- to three-year impact, as long-term future strategies and cross-cultural trends are my area of expertise. More than ever, we must apply big picture thinking to what we do, as we are traversing a time of uncertainty without a clear solution, therefore our north star must be our purpose and ability to reinvent ourselves and most importantly to create our preferable future.
It is vital to be at the forefront of shifts in society, economics, tech, culture and consumer mindsets. I have never felt as emboldened by what I do as a futurist as I think one of the most important skills we can have today is critical thinking, inspired action and co-creation. Gone are the days of secrecy and competition, today is a time of unity and community. This is why Fashion Together resonates so deeply.
I am excited about our presentation as we will go over some of the most thought-provoking signals of today. My goal is to help guide the audience on why and how they can navigate the challenging economic, social and environmental terrain with inspiring concepts and examples that have a long-term impact but can be implemented now, as this is a time of action and agility.
The first trend will be about redefining what innovation means. Today innovation above technological is actually philosophical, it represents a shift in mindset and culture. Within this we will cover how as a style industry we have to focus on social justice, frugal innovation, community and co-creation. Underpinning this the urgency to care for our planet and avoid ecological collapse. This can be done by re-evaluating our relationship with resources and value exchange.
The second chapter will be about kindness and wellness, inspired by the wellbeing economy. This will look at the convergence of wellness being implemented in every aspect of our lives through biology, science, tech, the way we design spaces, the way we treat our workforce. I will also discuss the importance of simple pleasures and how this has inspired growth in certain products and communications during the lockdown, pointing to a redefinition of what the emotion and pleasure of fashion means.
Last but not least, our final trend will be about the future of craft and will combine our need to re-make and re-use as well as the rise of digital fashion. It's key to see artisanship made by hand and digital as a harmonious eco-system where one doesn't have to cancel out the other, and both are part of the evolution of the craft of fashion. This chapter will also discuss the concept of the "immersion economy", open source creativity and gamification, which are areas we covered in February as well.
What would you say is the most noticeable impact the pandemic has had on your predictions from the start of the year?
In looking back at the presentation given in February at Pure London, not long before going into lockdown, the first chapter was called "Systems Change" and addressed the movement to redefine fashion and turn it into a regenerative force. Within this we looked at "Post Consumerism" with the rise of rental and repair schemes, and other forms of value exchange. We also discussed social justice, new ethnic majorities and our need to step away from euro-centric models. Finally, we tackled the rise of digital fashion and gamification.
The Covid-19 pandemic has accelerated the adoption of digital fashion and it has exacerbated deep weaknesses such as income disparity and racial injustice. The pandemic has also further cemented the importance of being mindful with our planetary and economic resources, the urgent situation we are in and how fragile our existences can be. It has pushed people to think about what home is. And home is not only our house; it is our family, nature and our planet. Therefore between the focus on social justice, the clear problem of income disparity with increased discussions around universal base income, it's clear that the wellbeing economy we discussed in February as well as the slow consumption movement, have long staying power and were never trends, they were simply thrust into broad daylight as topics we could no longer ignore.
Will any of the previous trends still apply post-Covid?
Absolutely. In the February forecast we discussed the regreening and rewilding of spaces and this is something we must pay attention to as cities, as well as retail spaces, are going to be put through a massive transformation. Therefore the value exchange of going to a store will be forever changed and will need to have a wellness component. Retail was already struggling pre-Covid-19 and the lockdown has accelerated changes the fashion system was too slow to implement. And now it doesn't have a choice. This is putting great pressure on businesses but also accelerating exciting innovations and a change in culture. Furthermore, in the report I discussed a concept called "New value exchange" which was around aftercare, new product storytelling and forms of currency. As we see the "hustle economy" grow, people will prioritise paying rent over unnecessary purchases, they will rely on brands to be partners in their personal resilience, in the longevity of their products and also need brands to venture out of traditional cash exchange into new definitions of commerce. More brands will shift their business model from fashion products to other forms of experiences and services with end-users. We already saw this during the height of the lockdown, with brands quickly shifting to, for example, manufacturing medical supplies, providing mental and financial support, stepping in where governments couldn't.
Have you noticed your own shopping habits and dress sense change during the lockdown?
I have always been a frugal person so for me it wasn't a massive change. But I did notice an increase in ensuring I had the best nutrition I could give myself, which included growing my own vegetables. This doesn't relate to clothing but it's a mindset. As such I also spent time repairing and redesigning clothes or home items and simplifying my belongings. In terms of my dress sense, I continued to make an effort to dress up every day. During zoom calls I wear lipstick and make an extra effort to spice up my day and feel like this is a special occasion. That has helped me mentally in not feeling stuck at home, and it has kept my love of expressing myself through fashion very much alive.
Finally, do you have any words of positivity about the future to share?
Recently, a designer I know was telling me about how down she feels about the world sometimes, between climate change, the Covid-19 pandemic and global political instability.
Feeling unsafe just going to your local store for fear of getting a deadly virus, and not being able to be with your loved ones, being stuck indoors and more, has been incredibly destabilising. Sometimes you just want to hide under the covers. But you only have to look around you at the outpouring of support that has come out of the Covid-19 pandemic, to know that resilience is the fabric we are made of, even if we don't realise it when all is going just fine.
I personally find happiness in the small everyday things, at least I try. Some days, you just don't have that strength and it's ok not to be ok. And then somehow you find a way to hope again. Whether that's by binging on tiny home videos (that's one of my happy places) or spending time with your community. There is no playbook for how to navigate a pandemic, at least not one we have had in our lifetimes. We are grieving the comforts of yesterday and it has highlighted the things we took for granted, with some people and organisations now making big life changes.
What inspires me to be resilient is the unwavering efforts of essential workers, doctors and charity workers. To me, they are the ones changing the world and they inspire me to prioritise on community. Having lived through 9/11 in New York, I remember that day feeling our lives would never be the same. And it's true, that day changed the world. We didn't know what the next day would bring but in the weeks to come, there was an outpouring of solidarity from all over the country and the world.
We are rebuilding the culture of fashion, not just the "industry". And this is something that needed to be done prior to the pandemic. We are a great force, fashion employs one in 6 people in the world. As colossal of a job this might seem, it's a moment for history books that will be talked about for generations to come so let's make the future proud. I always think "if Greta (Thunberg) can do it, I can do it", and this goes back to Pure's campaign "the Power of One", which we could say now with Fashion Together has extended to the power of Every-One.
Fashion Together's exclusive content programme will kick off on 1st September 2020. Register for Geraldine's session and see what else is on here.