08 Jun 2018
Fashion buyers: "Moda is all about building relationships"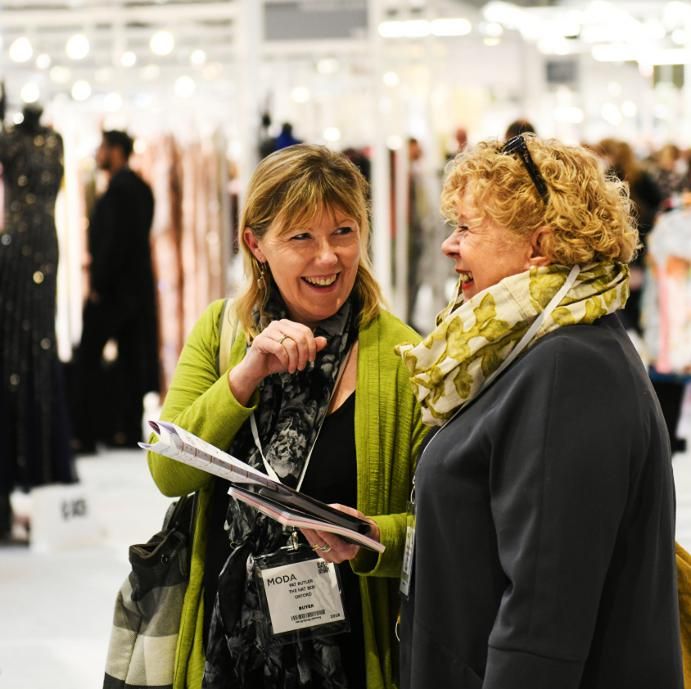 It's the UK's largest fashion trade event, where brands and buyers come from across the country and beyond to source the season's best collections. Moda buyers tell us why they value the show and the opportunity to meet suppliers face to face...
"Coming to Moda is like coming to see your family; everybody has been so lovely and supportive and you wouldn't have that relationship if you just dealt with one another over the phone, it's meeting face to face and being able to interact. That's why I come to Moda, it's all about building relationships," says Sarah Simonds, Buyer at Norfolk-based boutique Artichoke.
Linda Fullwoods, Buyer at ladieswear boutique
Fullwoods
explains, "When you find something at a certain trade show that works for you and works in the store, it's worth coming back. What's really nice is that you get to know people and you get to work out what other people are doing in their boutiques, so we'll definitely be back."
"The best footwear show in the UK by a country mile"
"Moda Footwear is the best footwear show in the UK by a country mile," explained Sarah Decent, Owner of Modish shoe shop. "I saw Laura Vita at the show, and bought into it because it was jaw-droppingly good. There was a buzz at this season's show, but it wasn't so busy that it was difficult to see the suppliers I needed to see. Try stopping me attending the next show!"
Tracy Harvey, Managing Director of Harveys of Halifax told us, "I was inspired by the new collections at Moda Footwear this time around, and bought into Katy Perry Shoes and Guess Footwear. Moda is very strong for us for footwear, and a good opportunity to visit existing suppliers and source new products. We will definitely be back at Moda in August. In fact, we have already booked our accommodation."
Join us at the industry's no.1 fashion trade show from 5-7 August 2018 at Birmingham's NEC.
Apply for your stand today.
#FashionisLive