07 Jul 2020
Coping with retail's new normal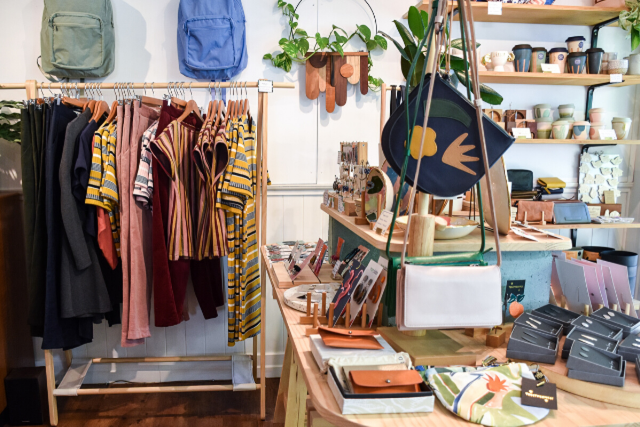 Shops might be back open, but "business as usual" is still a long way off. That being said, the lockdown period has been a chance for adaptation and transformation for many businesses, not just those in the fashion industry. We've taken the opportunity to reflect on the last few months, and the state of play in retail, with some of Moda's regular retailers.
Learnings from lockdown
For many, the lockdown has proved the value of online retail and social media. With shops closed, many retailers have been forced to revamp their online presence, to maintain their relationships with customers old and new. The agility of ecommerce has proven itself vital during this period, and many retailers are considering how best they can optimise their multi-channel approach now that restrictions have been lifted.
Faye Clarke from Finale Shoes is one of our buyers who's been harnessing the power of ecommerce and social media throughout the lockdown. She told us, "once we were closed, we focused on keeping in touch with our customers using our social media channels and trying to replicate our chatty, friendly Finale style online while we couldn't do it in person. Luckily, we already had a great website which was full of all of our spring/summer collections so we could direct people to there to make purchases".
It's clear that the personal touch is something customers really value from being able to shop in person, something that's been missing during this period. As Pamela Shiffer, owner of her eponymous boutique in Primrose Hill said, "this has to be the most difficult period we as independent retailers have ever experienced, however I do feel now… a little bit more appreciated by our customers who regularly tell us they're happy to see us open again!"
The appetite for shopping has been more apparent than ever; first with queues outside garden centres, which opened a month before other non-essential retailers, and now with high demand for boutiques and fashion shops. Both Pamela and Faye told us that business has been going well since reopening, with Pamela saying "I've had a steady stream of customers returning and they're very happy to update their wardrobes. Even if they're only buying a top or two, clients want to feel as though their lives are getting back to some kind of normality".
Maintaining relevance and resilience
Of course, having an online presence has been useful for keeping retailers fresh in customers' minds, as Faye has since found having spoken to customers, "Since reopening lots of our customers have said they really enjoyed our social media throughout the lockdown which has been lovely to hear. We kept it light-hearted and focused on lots of different things rather than just sales posts to try and provide quality content in what was a very strange situation for everyone, the high levels of engagement and feedback have shown that keeping the relationship going with our customers while closed was the best thing for us to do as a business… and kept us in people's minds for when retail was allowed to re-open."
But, of course, it's not just the digital element that has been important for businesses to remain relevant.
Again, the personal touch has been essential for both Finale Shoes and Pamela Shiffer with the founders and teams regularly going out on delivery runs to fulfil online orders and catch up with their local customers; as Pamela described it, "think UPS with grey roots!" She continued, "it was lovely chatting with customers on their doorsteps to see how they were all doing."
Faye added, "[our delivery service] worked really well; we were able to support customers with making purchases online using phone calls and messaging services so people were confident in buying online when they couldn't visit the shop to try on items. We also sent out presents on behalf of customers and received positive feedback from many happy recipients!"
The lockdown has also provided a whole new meaning to the term "window shopping". Pamela told us, "I've worked incredibly hard to keep the business looking fresh and exciting even during lockdown, I regularly visited the shop to change the window displays to keep our passers-by engaged with a new look even though we were closed. Our windows are one of our biggest marketing assets and it sent out a message that we were alive despite not being open. As a result, I had many customers email me wanting more info about items in the windows which resulted in sales. I also offered our customers the opportunity to shop with us over Zoom, which despite my initial nerves was great fun."
The new normal
As we've said, the lifting of restrictions does not mean we're back to normal completely, but retailers have been getting creative in keeping their shops open and making their customers feel safe.
For Pamela Shiffer, one of the big successes has been offering private appointments to customers, who appreciated the chance to shop with no interruptions or contact with anyone else. Pamela said, "interestingly, I saw a rise in individual customer spending which I put down to the fact that making an appointment equals to serious customer!"
In Finale Shoes, the shop floor has taken on a new appearance. As Faye told us, "inside the shop we have hand sanitiser at the entrance and disposable gloves are available if people would like to use these while shopping. If someone would like to try anything on, we have disposable socks and a seating set up that allows 2m between customers. Once customers have decided on their purchase, we have a Perspex screen at the till and more hand sanitiser available. Staff have visors and masks to wear if and when needed." Like Pamela Shiffer, Finale Shoes are also offering out of hours appointments, as well.
Having to door wide open is symbolic gesture for Finale customers as well. Faye told us, "when we reopened, we were so pleased to have door wide open to welcome customers in. In fact, we try to keep the door open as much as we can which makes it easier for customers to see how many people are already in the shop and lets lots of fresh air in too".
For both Faye and Pamela, it's communication that has been, and continues to be, key in helping them feel positive about the new normal.
Pamela told us, "I've been talking to other retailers like myself comparing notes on all sorts of subjects, which has been a real insight and help during this time. It's good to know we're not alone and that we're all going through the same worries and concerns - a problem shared is a problem halved!"
Faye added, "the lovely comments received both in-store and on social media by our customers have been amazing, I feel people really want to show their support to independents and this is so much appreciated. I have been told many times since opening that people are preferring to shop locally and in smaller shops at the moment which is great news for businesses like ours."
What have you learned from the lockdown, and how is your business adjusting to the new normal? We'd love to hear from you via email or social media.