17 Dec 2019
Attracting buyers to your stand: 5 top tips for show success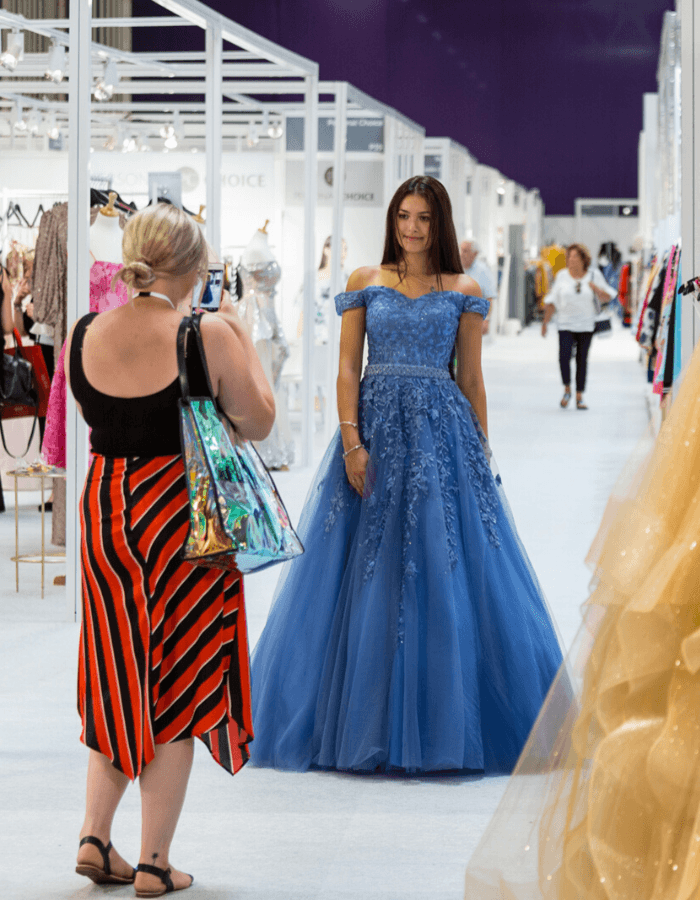 Bringing fashion to the heart of the UK, Moda attracts an impressive number of buyers through the doors of the NEC, representing some of the industry's most exciting retailers, big and small. But, whilst we enjoy playing host to a number of visitors from around the world each season, there's no guarantee that they'll come flocking for your stand, without a little nudge. That's why we've pulled together some top tips to help you drive that all-important footfall to your stand this season at Moda.
Step up your pre-show marketing
Advertising your upcoming appearance at Moda is crucial if you're hoping to pull in the names who matter most to you. Think about sending out email reminders to your network to let them know you'll be at the show or running social media countdowns. The team here at Moda HQ work hard to make sure we help our exhibitors with this as well, with website profiles, social media posts and blog entries, so make sure you talk to your account manager to see what's possible and how you can help your brand stand out in the lead up to the show.
Send out your own invitations
There's nothing stopping you from inviting your own VIPs; in fact, we encourage it! We've even created some ready-made invitations that you can send out to buyers inviting them to come and see your brand at Moda. Simply login in to the Moda ezone, download the invites and send them directly to your customers and we'll automatically upgrade them to VIP status.
Make sure you use your own network to its full potential, inviting your best customers and top prospects to come and view your new collection. What's more, The Club at Moda is designed to bring in some of the top buyers from around the industry, and our dedicated Buyers Relationship team is in place to bring in the buyers you want to see; make sure you nominate your key names to your account manager and our team will get in touch.
Get social
Social media is designed to bring the latest news and updates straight to your audience, and therefore lends itself perfectly for trade show exhibitors. Try to bring along someone on your team who will be dedicated to putting out the latest updates from directing people to your stand, to sharing insights from talks and catwalks, to posting pictures with new connections and old friends. Be sure to use #Moda and mention us using @modaexhibitons to ensure its Moda visitors you're talking to.
Take your brand out and about
Moda is all about community, and it never hurts to get stuck in. Don't be scared to leave your stand and roam the show. Make sure you're spreading the word about your stand, where to find your label and hand out collateral. At the end of the day, buyers and brands alike are at the show to meet new faces and do business, so there's no harm in getting out there! If you've got a limited number of people manning your stand, never fear! Speak to your account manager to find out what other opportunities are on offer to maximise your presence at Moda.
Create a stand-out stand
First impressions count, and at a trade show, your stand is the very first thing people will look at when they're deciding whether to do business with you or take their money elsewhere. You need to make sure that you strike a balance; stand out from the crowd and your show floor neighbours whilst staying true to your brand identity and aesthetic. Keep your stand neat and tidy, have your name and logo clearly visible from different touchpoints, and ensure that the products you've got on show represent the very best of your collection; no one likes an overcrowded stand, and you can keep other products in storage until you start having more specific conversations with visitors.
Get your name in front of the buyers that matter this February and take your business to the next level. Join the line-up at Moda AW20 at the NEC Birmingham from 23rd – 25th February 2020.
---
About Moda
The heart of UK fashion, Moda is the key meeting place for mainstream fashion, delivering a high quality and cost-effective platform for mid-market brands and ensuring a commercially viable and convenient buying environment for retailers across the UK and Ireland. Bringing together over 1,200 collections under one roof at the NEC Birmingham, to deliver the complete season's overview to over 9,000 fashion buyers, the show also brings fashion to life on 16 catwalk shows throughout the three days to inspire buyers and sell brands, alongside a comprehensive retail-focused seminar programme, interactive workshops and networking events.