12 Nov 2019
An international guide to succeeding at a UK trade show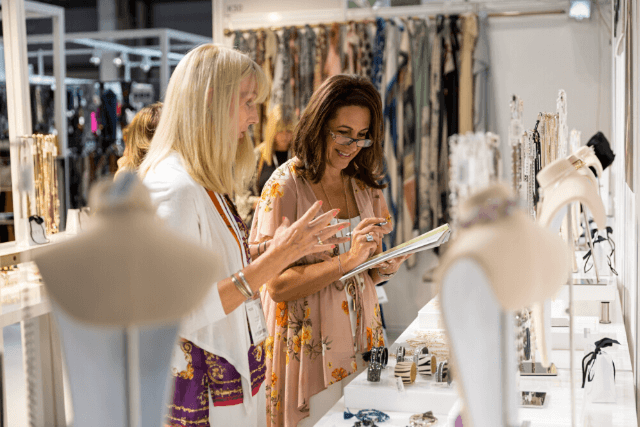 Political uncertainty and general doom and gloom aside, the UK fashion market remains an important one. Accounting for around a quarter of the value of the global fashion market, the UK fashion scene is worth being involved in. So, bringing the best of your collections to a UK trade show, like Moda, is a smart business move. That's why we've got some top tips to help you make the most of your time at a UK trade show.
Pre-show prep…
Before you even apply for a stand, you need to ensure you have enough stock and the capabilities to be exporting your products. If you have a successful show, you'll need to be prepared for the post-show demand.
Once you've established this, you can start prepping your stand. Stand design and visual merchandising are key, so take some time sourcing stand designers and builders in the UK – this is much easier and cheaper than shipping your stand over.
Sprucing up your social media presence and making your own audiences aware of your upcoming appearance at the show will also encourage your key buyers to make an appearance at your stand. Make sure you've logged into the e-zone and updated your company information and imagery, and take advantage of the collateral that we've designed for you to use across your channels. The e-zone also hosts all the information you need to exhibit successfully, including a manual and essential details about the show as well as marketing collateral to advertise your presence at Moda both pre and during the event.
Lastly, make sure you've booked and planned everything well in advance of set-up day. You'll need to budget for and book flights, accommodation and shipping, as well as arrange for the necessary visas.
During the show…
Make sure you're on site and setting up a little in advance of opening day. You'll need to be onsite to set up your stand and make sure everything's arrived on time. If you're coming from further afield, make sure you give yourself some time to adjust to the time difference so that you're awake and full of energy during the show itself.
Remember that your key buyers won't automatically know you're at the show. Keep up your marketing during the show, and don't be afraid to approach people passing by your stand. A simple "hello" can make all the difference.
Make sure you're gathering information from the buyers who visit your stand. Whether they make an order or not, you never know how the relationship could develop post-show. Collecting email addresses and phone numbers during the show will make cross-country networking so much easier and make your time and investment at the show so much more valuable.
Post show debrief…
The show's not over, even after closing day. The time immediately following the show is a key period to solidify connections and ensure that your orders are followed through. Once this is all done, you can assess the value to your business, and rebook your stand for the next show edition!
Want to exhibit at Moda? Our AW20 edition takes place at NEC Birmingham from 23rd – 25th February 2020. Apply for a stand today.