26 Jan 2021
60 seconds with... Sabinna Rachimova, SABINNA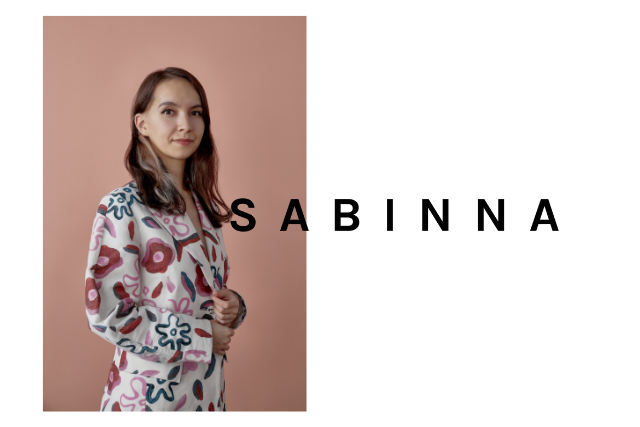 Get a glimpse into the lives of our panellists ahead of their appearances at Fashion Together!
We caught up with Sabinna Rachiomva for a bitesized look at her brand. SABINNA is a female-led conscious lifestyle brand offering products and experiences with a studio and retail space in East London and a small knitwear studio in Vienna. Well known for their signature handcraft details, strong silhouettes and vibrant colour palettes SABINNA is a modern storyteller for women. Sabinna herself graduated from Central Saint Martins College of Art and Design. Before launching her eponymous label, she worked for the leading Parisian Fashion house Christian Dior and London brand Mary Katrantzou. Sabinna has an innovative take on selling strategies and direct communication with her customers. As a double immigrant woman, she is incredibly passionate about inclusivity, equal opportunities and being an opinion leader for the future generation of creatives.
Tell us about SABINNA in one sentence
SABINNA is all about storytelling, consciousness and Innovation.
How has the pandemic affected your business?
As a business we had to pivot and change our strategy - all offline offerings had to move online and listening to customer demand was more important than ever. The most difficult part was the uncertainty as rules kept changing and we never knew if the way we operate would have to be adjusted again. Our big advantage is that we have always had a strong online presence and that our supply chains are built on local manufacturing. This made flexible choices and resilience possible.
What's been your positivity mantra during lockdown?
We have had so many lockdowns since the start of the pandemic and every single one has felt a bit different from the last. I think the team spirit really helped each individual to stay focused and positive. We had daily catch ups and weekly digital drinks for example. This brought the team closer together and put emphasis on the fact that a business is made out of individual human beings. Everyone deals with the current situation differently and together we can help each other to go through these uncertain times.
What are you looking forward to about Fashion Together?
I'm excited to see the innovation and shift that is currently happening in our industry. Fashion Together is a forward thinking concept that focuses on uniting the industry, showing the possibility of digital spaces and creating new opportunities through knowledge and experience exchange. I'm looking forward to being able to contribute to this initiative.
Where do you think the future of fashion retail is headed?
The possibilities are endless and we are just at the very beginning. I see a big focus on online presences that go beyond the products, a range of experiences that engage the customers and micro communities that help us understand the demand and cater to it.
What's the most exciting opportunity you see emerging in the "new normal"?
That we finally get to shake up our industry. This is the time of much needed change and we have no other choice but to embrace it.
Catch Sabinna on the "Positive Disruption: How to collaborate for real change" panel at 10am on 23rd February 2021. Register here for Fashion Together.