Sea Gems Ltd
Hall: Halls 2, 3+3a Stand: 2G10-J11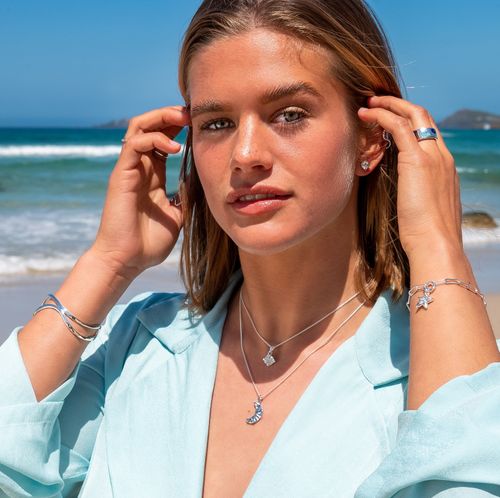 Sea Gems, Cornwall is launching exciting new collections. Beautifully presented, original silver jewellery for boutiques, gift shops and jewellers who are looking for something different at affordable prices.
Designed in Cornwall, we have created unique silver jewellery and gift collections that capture the essence of our iconic landscape and heritage.
Our "Silver Origins" boutique jewellery brand features contemporary handcrafted 925 sterling silver, combining polished and textured surfaces, gold vermeil or semi – precious stones. Inspired by our roots here in Cornwall, you will discover the beachcomber range, botanical, wildlife, oceanic and organic inspired designs as well as fun, whimsical motifs.
 The "Celtic Lands" silver collection evokes our rich heritage with timeless motifs and elaborate knotwork.
The art of fine enamelling, with its vibrant colours creates unique jewellery and gifts in our Mackintosh, Celtic and nature ranges, Inspired gifts include pens, bookmarks, compact mirrors, pillboxes, scarf- rings, and Mood rings
Address
Penzance
United Kingdom
Sustainability Role in overall company's strategic plans

Sustainability is a high priority across all aspects of the business, from products and packaging through to energy and recycling waste.

Sustainability initiatives

Our postage packing is now 100% recyclable, using cardboard and paper tape. We have cut out bubble wrap and plastics and reduced the overall amount of packing used. We endeavour to make sure that all raw materials, such as gemstones are ethically and sustainably sourced. Since 2020 all of our individual polythene bags used for every piece of silver jewellery have been biodegradable and recyclable.

Pledges for the year

2022/23 will see the introduction of a new range of eco jewellery gift boxes which will be 100% recyclable, FSC certified and plastic free

Social equity at your company

Sea Gems has always held a full health and safety policy which is constantly updated by an outside agency and pays all staff above the living wage. Our suppliers pay a fair wage and adhere to strict laws to protect workers' rights

Packaging

We are in the process of making our packaging plastic free

2022/23 Brand new plastic free, 100% recyclable and FSC certified packaging will be phased in to replace existing packaging.

Materials

We have products made from recycled materials

A percentage of the silver within our jewellery is made from recycled 925 sterling silver

Ethical Considerations

Fair wages are paid to the people who make our products

Our products are made by people employed in good working conditions

We challenge our suppliers to report any ethical issues they identify

We have an ethical policy

Within the workplace where our products are made there is commitment to Non-Discrimination Gender Equality and Freedom of Association

Fair wages combined with a good, safe working conditions are part of our ethical policy and we work closely with our suppliers.

Enviromental Impact

We have a sustainability policy

We consider the environmental impact when creating our products
1 Results