Reeves & Reeves
Hall: Halls 2, 3+3a Stand: 2H60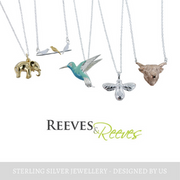 Reeves & Reeves create and produce collections of sterling silver jewellery with touches of gold vermeil and the addition of sparkling stones.
We take our inspiration from the British countryside, particularly the Dorset countryside and coast close to us. We are animal lovers and this reflects in our collections of dogs, cats, horses and wildlife.
We are always adding to our collections. We create real conversation pieces too, pieces that really catch your attention, through both quality and design.
We believe our collections have a wide age range appeal, adding to their commerciality, with many of our designs being suitable for everyone from 18th birthday presents to 50 anniversary's.
We also offer a "white label" service, creating bespoke ranges for customers.
Complimentary packaging is available.
Address
Chard
United Kingdom