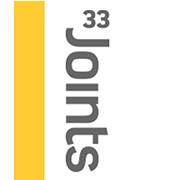 33 Joints
Stand: 6G33
| In Season Stock
| New to the UK
| Fashion
| Sport/Leisure
| Outdoor
| Fashion
| Shoes
| Trainers
| New To Moda
| Outdoor
| Footwear
33 Joints are at the forefront of footwear distribution, we fuel prominent market positioning and establish footwear as a leading category with brands we believe in.
As a family business, our fundamental principles are at the heart of everything we do. We create distinctive designs without compromising on quality and ensure every facet sits seamlessly in each collection. We've come a long way since our first steps in 2006 when 33 Joints was founded by renowned footwear industry professionals, and father and son, Malcolm and Antony Nathan. Since then we've successfully licensed many brands as well as become a partner company of Samsung C&T, securing the strength and confidence to continue to elevate brands to the next level.
Our invaluable insight and bold ambition enable our existing brands to thrive and set the pace for future partnerships.