Neve's Bees Natural Hand Salves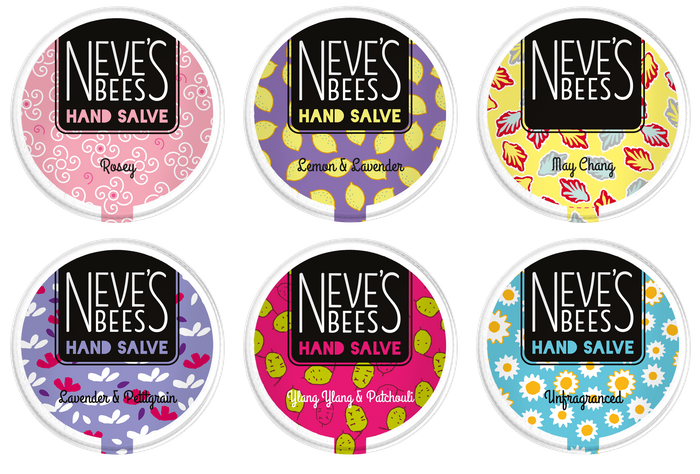 Our wildcrafted beeswax hand salves naturally heal hard-working cracked hands and absorbs quickly to leave skin feeling supple and softened. Made from pure beeswax, with its honey and propolis, blended with natural plant oils – the ultimate help for cracked hands when skin needs some care.
Most skin creams or lotions are a mixture of water (aqua) and oils – have a look at the ingredients on the back of pack. Because oils and water don't mix (think of oil and vinegar) the manufacturers add emulsifiers to bind the oil and water together – these are not normally chemicals that benefit your skin. Also, because water can grow bacteria, manufacturers selling products in the UK are legally obliged to add preservatives to kill any bacteria – so most skin creams contain chemicals that will kill bacteria in the cream…and also on your skin. We prefer not to upset the skin's natural skin flora so chose not to add water to any of our products – so we don't need to add any synthetic emulsifiers and preservatives.
Every 30ml tin contains:
Beeswax from our bees here in West Oxfordshire – helps to naturally seal moisture into the skin
Organic Apricot Kernel Oil – quickly absorbed into the skin to help soothe and nourish dry skin
Organic Jojoba Oil – close to the skin's own natural sebum for smooth, soft skin
Natural Vitamin E – for stronger skin
Grapeseed Oil – a very light oil which is easily absorbed and leaves skin feeling nourished and toned
Organic Essential Oils – which make our products smell really nice
…and absolutely no artificial anything, ever and we donate 10% of profits to wildlife charities
Categories
Him
Her
Beauty
Bath Products
Skin Care
Spa & Spiritual
Grooming
£0 - £19