01 Feb 2023
Tree of Life watch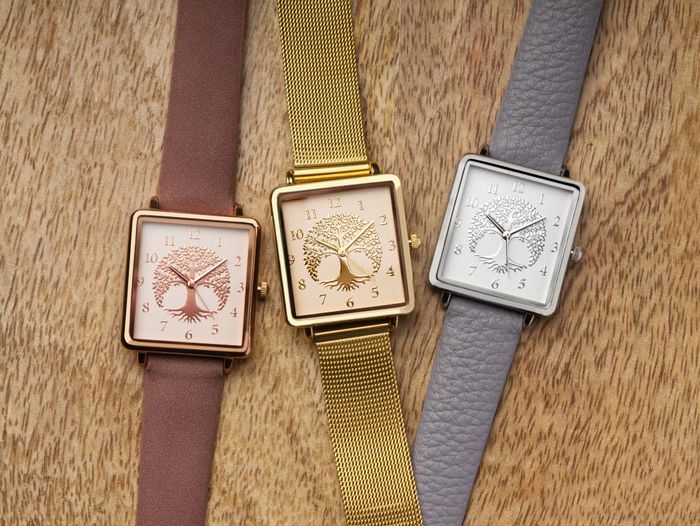 Eton Watches
Press Release Spring 2023
Designed for the fashion-conscious, Eton Watches' newest range is easy to wear, striking in design and always on trend.
Every new year brings the chance for new beginnings, growth and reconnecting with people and passions from the past. And as we start 2023, Eton Watches is proud to launch our Tree of Life watch to mark this fresh start.
The Tree of Life is a symbol dating back to ancient times and has been taken up by various religions, cultures, and spiritual practices ever since.
The Celtic culture uses the Tree of Life to represent the mortal and immortal world, whilst religions such as Islam, Christianity and Judaism all use the symbol in different guises.
Our design depicts the Tree of Life in beautiful, intricate detail across the watch face. The case and mesh bracelets are made of metal, whilst the straps are made from faux leather. Available in yellow gold, rose gold and chrome, this watch is a stunning addition to our classical timepieces and is ready for order now.
Eton Watches was established over 40 years ago and is a family run business supplying wholesalers and retailers all over the world. We offer customers a huge range of watches, from classic and elegant designs to fun and fashionable pieces.
Our watches are of high quality yet affordable for all, with RRP's of £15-£50. We specialise in the latest trends and supply a number of leading brands.
For more information, or to see our catalogue, please contact……
Priced between £15-50 retail, Eton Watches has been supplying wrist watches for men and women for over 40 years.
For more information, visit the website at www.etonwatches.com.
Eton watches: Newcom Distributors Ltd
Sales contact:: Sangat Chandhok
E: info@etonwatches.com
T: 020 8888 8238
F: 020 8881 7506