02 Sep 2021
Jayley Collection SS22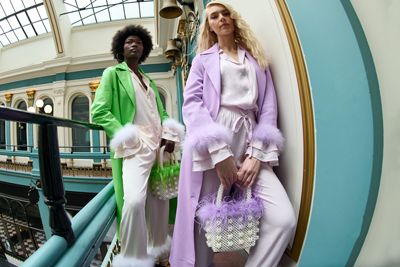 International luxury fashion brand Jayley Collection is reaching new heights this season with their star-struck, high in demand collection, featuring many of this seasons colours, boldest prints and exquisite patterns, including their most loved checkered print collection.
Jayley is one of the fastest-growing leading contemporary fashion that has a huge international presence with millions' of followers. Jayley has long been known for their use of quality fabrics such as faux fur, suedes, silks and cashmere and their inspiring personality, which is woven love into every garment. Today you can see many of their exquisite designs hitting global Fashion Weeks; starring in music videos; headlining Netflix series or trending on Instagram.
The #ladiesofjayley demonstrates the versatility of this brand, showcasing Jayley ladies of all shapes and sizes from all walks of life donning their favourite Jayley's outerwear, sportswear or more casual loungewear all looking for one thing in common; quality in nature and a true love for fashion!

One thing that is loved about Jayley beyond their striking designs and luxury fabric is their ability to be so inclusive. Jayley truly does have something for everyone's taste and price, as consumers are now able to style entirely from head to toe, whether it's hair accessories, face masks, bags, outerwear, knitwear, hats, scarves or gloves; this brand has it all! Not only can you style your entire look, you can find something that suits specifically your style and size, as Jayley has worked hard to develop their ranges to meet a more diverse community with many of their designs being, oversized, adjustable, or a relaxed fit, but, always maintaining that flattering feel with statement.

The growth seen in Jayley has been phenomenal, as they have developed from much more than the show-stopping, awe-inspiring window display brand once knew, you can still find all your most loved garments including the gilets, maxi coats and fabulous faux fur ponchos; but now they are evolving as forefront leaders in fabric design and sustainability innovation. Jayley has developed new sustainable fabrics that are being incorporated into the heart of every design, that we love and know. They have developed many groundbreaking technology and fabrics incorporating banana peel, rose petal, mulberry silks and further sustainable fibres that don't cost the consumer or the planet.

The market has seen Jayley taken by storm as the world once again opens its door to welcome colour, creativity and bold style back into our lives. With all their innovative fabrics, trend setting designs and ever engaging love of fashion, Jayley Collection is certainly a brand to keep a close eye on.
Be sure to pay Jayley Collection a visit if you're attending trade show at Moda, Pure London or Who's Next Paris where you can first hand feel the quality of their products, admire their designs and meet the people behind the brand. Should you be unable to vistit them at any upcoming show, you are always welcome to visit their website www.jayleycollection.com or instagram "jayleycollection" to keep track of their exciting new fashion innovation arriving every day.